These online shopping tricks and hacks to save you money are off the hook! Plus, how to get the best price on Amazon.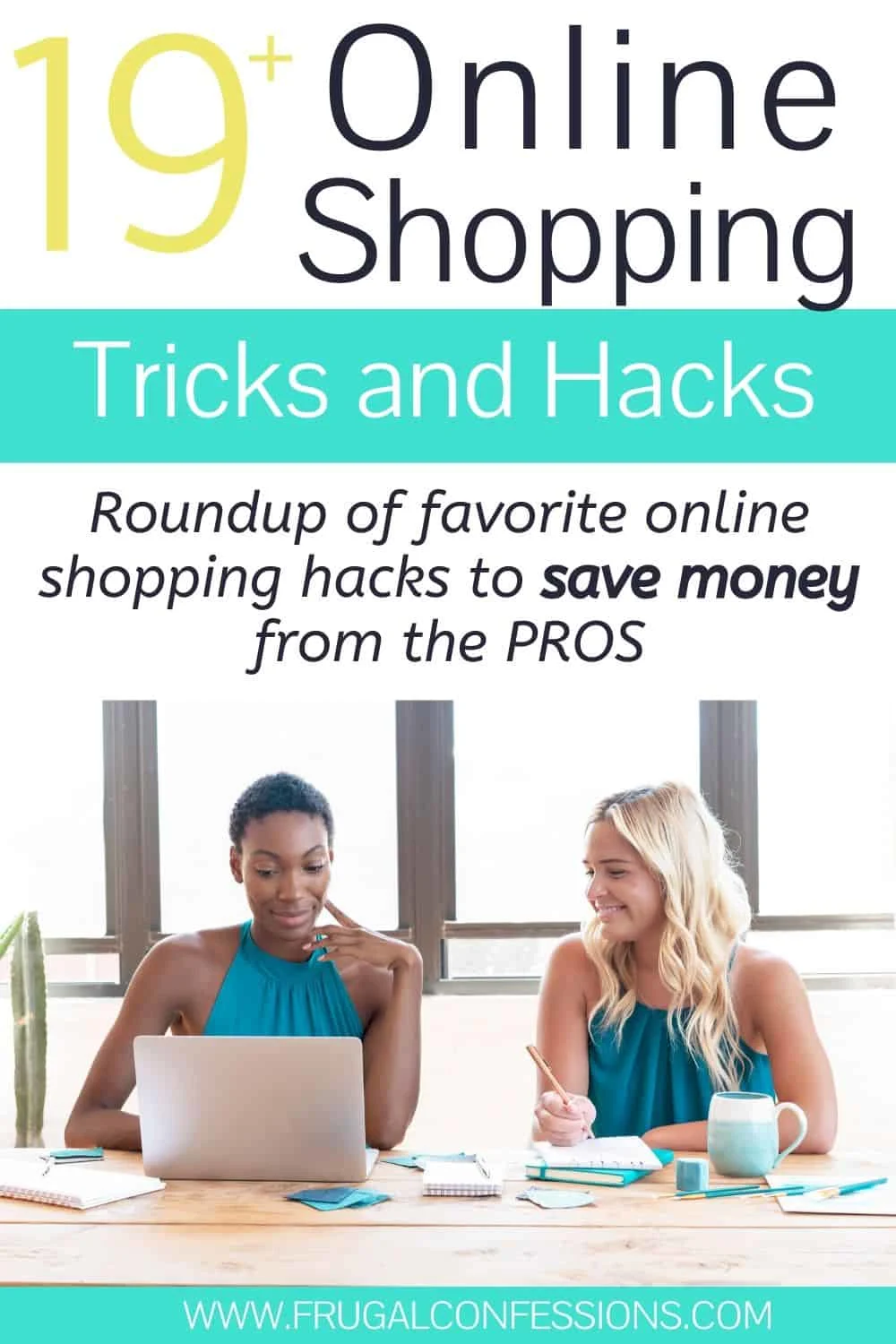 One of the biggest online shopping seasons is upon us, and I wanted to take the time to show you some awesome online shopping tricks and hacks – ones you haven't heard of before.
I polled my personal finance blogging friends, and asked them to bring their juiciest, BEST, online shopping hacks to save money.
And guess what? I didn't include every answer I got. Because I wanted this to be the best of the best – you don't have time for anything less.
Below, I'm sharing with you my favorites. We'll start with Amazon shopping tricks and tips…because most people will shop there in the next few months.
Amazon Shopping Tricks and Hacks – How Can I Get Things Cheaper on Amazon?
How to get the best price on amazon?
You, like countless other people this holiday season (and beyond) are likely going to shop on Amazon at least once in the next few months.
SO, I've dedicated an entire section to the best amazon shopping tricks and hacks to get you things cheaper on Amazon. Several of these? Well, I wanted to slap myself on the forehead and issue a right "duh" after thinking about all the times I could have saved money.
#1: Shop Amazon's Outlet
Seriously, my mind is blown on this one. I've been shopping on Amazon ever since it was "just" mainly an online bookstore…and I had no idea that there is an Amazon Outlet store.
Here's proof that it exists (am I the only one who didn't know this?!?):

#2: Use Amazon Price History Tool
We all know Amazon (and the sellers on Amazon) lovvveee to change the prices on products. So, how are we supposed to know if we're getting a good deal or not? How do we know if we're buying something today that we should wait until a week or two when the price is likely to drop again?
McKinzie from Moms Make Cents shares, "Amazon already prices their items very competitively, but with a little patience, you can get an even better deal.
One of my favorite Amazon tricks is to use a free site called Camelcamelcamel.com.
On this site, you can add in the URL for the item you want and you can see the price history for that product so you know how good of a deal you are getting.
If the price is higher than you are wanting and you don't mind the wait you can even set up a price alert that will send you an email when the price on Amazon drops below a certain price."
I tried this out, and was really impressed.
For example, I looked up a product I've been eyeing up (and that's been on my Amazon Wish List for probably a year), and plugged the entire, long URL into the CamelCamelCamel.com search bar.

According to the product history, the lowest price is around $49, and the highest price was around $109. That makes $82.99 (the current price) somewhere in the middle; I think I'll set up a price alert for around $60 and see if it goes back down.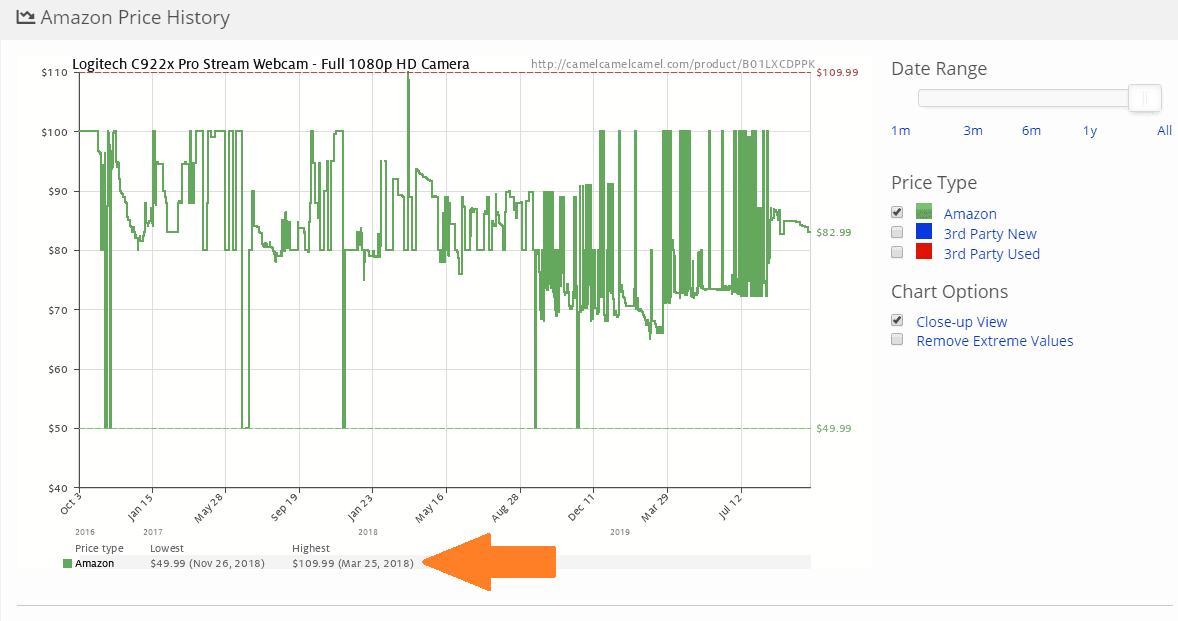 #3: Change Your Platform
I call this my Ninja Online Shopping Trick…because it makes me feel like a Ninja whenever I use it successfully.
I've been using this trick for years, and can't believe I just now thought to tell you about it.
It's really simple, and actually, a bit odd.
If you find a product you really, really want on someone's website, then go to Amazon, and search for that same item — it's almost always cheaper (IF it's on Amazon).
Let me show you a live example, because it's hard to believe (I couldn't believe it myself when I first figured this out a few years ago).
This is the product on Dave Ramsey's website:
And here's the exact same product, on Amazon, for much cheaper:
Here's why it works:
In the online world, different selling platforms cater to different audiences. And because of this, they offer different prices on the same darn product.
Crazy, right?
Each time I find this on something I want to buy, I'm like "you're not fooling me!"
The fact is, Amazon caters to a whole different audience then a personal website owner who has super-fans.
And heck, you might be their superfan. But you know what I'm a superfan of? Your wallet having a bit more cash in it.
Don't forget, they'll still get a commission from Amazon, too. They decided to sell their product there, and there are other benefits companies and people, like myself, get from selling our products at a discount on Amazon versus on our own website.
#4: Earn Free Amazon Gift Cards by Using a Different Search Engine
Have you heard of the Swagbucks search engine? It's not Google. And it rewards you for searching the internet. As in, you can accumulate Swag Bucks (SBs) from your regular internet searches through them, and then you can convert those into cold, hard cash (I like to save mine up and get the $50 PayPal cash each time).
There are also tons of gift cards to all kinds of online retailers, and sometimes they even go on sale.
Yes, you read that right — you can potentially get a discounted Amazon gift card to use this holiday season…that you didn't have to pay any money to receive!
Click on Swagbucks (make sure you sign up for an account). Then in the lefthand sidebar, click "Redeem SB".
Click "On Sale".

Just look at the current discounted gift card offerings!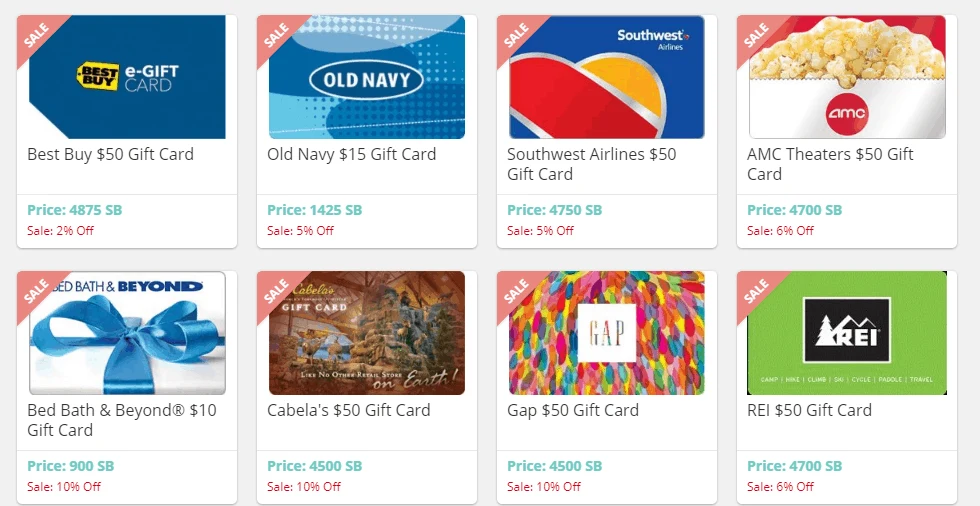 I love free money.
This is a great way to shop for free, online (funded by your online searches! I kind of love that).
Cyrus Vanover from FrugalBudeter.com writes, "If you're like me and do a lot of internet searches, you might want to consider switching to Bing to take advantage of their rewards program. Just by doing something you are already doing (using the internet), you can earn $5 gift cards that can be used when making purchases on Amazon. The gift cards are stackable, meaning you can use multiple gift cards for each order you make to reduce the total cost. By using this strategy, I haven't paid full-price for anything on Amazon in several years."
#5: Shop By Amazon Coupons, Only
What if this holiday season, instead of getting specific things for people and not even shopping around, you go to Amazon's Coupon page, and buy ONLY items that have coupons?
A mindset shift, for sure. But it can really help you not only narrow down WHAT to buy for others, but to get the gifts at a discount.
Be sure to sort by things like specific departments you're looking for and highest percentage discount.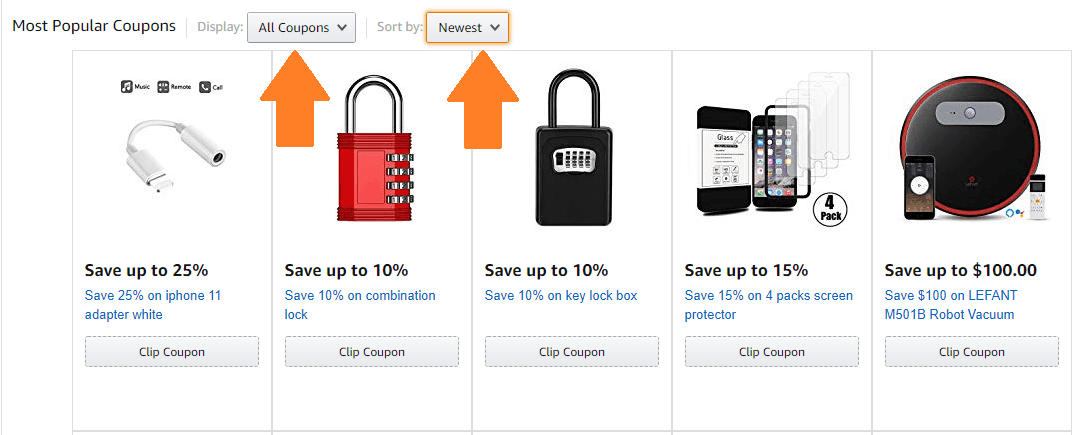 #6: Amazon Filler Tool to Get the Free Shipping
Who else was bummed when Amazon's free shipping threshold went from $25 to $35? I'm not an Amazon Prime Member (though, seriously considering at least doing a free trial for the holidays), so I time my purchases together as much as I can to get the free shipping.
You can use this filler tool to find an item that will get you over $35 for the free shipping.
Simply fill in the how much you're short of the $35 threshold to get the free shipping, and this tool will show you your options. Pick out something you can put into someone's stocking, enjoy the free shipping, and store those gifts in your drawer/cupboard for the holidays!
Psst: here's my articles on 151+ men's stocking stuffer ideas (all under $10, and many under $5), and 151+ unique stocking stockers for women (all under $10). They could help, too!
#7: Purchase Refurbished Items
Brittany Kline from TheSavvyCouple.com writes,
"Refurbished items are often looked down upon. They have a stigma for being "used" and shipped back to the manufacture for being defaulted. Yeah, that could happen to some products, however don't put down a refurbished product when shopping online. Refurbished items can mean a few different things.
In some instances, refurbished is used to rename items that are just a surplus of the inventory. Many have never been used before. Refurbished items could also be a return of an item that had damage to the box when it was shipped (again, product unused). Refurbished items could also be gifts that were returned by a recipient that they never used or used for a small amount of time.
I love purchasing refurbished items through a company like Amazon. Amazon calls these items Renewed. When you go to Amazon, Renewed has its own search bar so you can search all items that have been Renewed by Amazon. What is great is that all of the items are inspected and tested, backed with a 90-day warranty and are priced right. This way when you go to buy a refurbished item you feel confident purchasing with a warranty."
Online Shopping Tricks and Hacks to Save Money
Next up? Some awesome online shopping tricks and hacks to save you the most money (you know, when you're NOT shopping on Amazon.com).
#1: Order Your Coupons the RIGHT Way
Allan Liwanag from The Practical Saver shares this online shopping tip — honestly, I had no idea you could order coupons a certain way when shopping online (I definitely order my coupons in a particular way when shopping at stores).
"When you have two or more coupons that can be combined in one online transaction, make sure to use them properly and in the right order so you can make the best bang out of your buck. For example, your total purchase is $100 and you have two coupons (i.e., $15 off and 20% off of the total purchase).
Here are two scenarios that depict different savings, depending on how you use your coupons:
Scenario #1:
= $100 – $15 off = $85
= $85 * 20% off = $17
= $85 – $17
= $68.00 (This is your total purchase after all the coupons have been applied)
Scenario #2:
= $100 – 20% off = $80
= $80 – $15 off
= $65.00 (This is your total purchase after all the coupons have been applied)
You'll see that the second scenario helps you save money. In these two scenarios, you're paying $68 using the first scenario and $65 using the first scenario.
This trick can be use online or in-store when multiple coupons can be combined."
Allan also shares a specific example that he did recently:
"I shopped at Kohls.com to get some shirts, shoes, and pants for my 1st grade-schooler. I signed up for the mobile sale alert and got the 15% off discount. There was also a $20 discount on orders of $100 or more.
Overall, I saved $42.50 in a single transaction. My original bill was roughly $150. But using the 15% first, and, then, the $20 off, I was able to knock down the price to $107.50.
Had I stacked the coupons in a different order, that is, $20 off first, and, then, the 15%, I would have spent $110.50 instead of $107.50. While the difference is only $3, it's still savings on my part."
#2: Abandoned Cart Strategy
Nicole Booz from Gentwenty.com shares a tip that I've seen work in my own favor (have you?):
"Many online retailers try to lure you back to their website to make a purchase by emailing you a discount code (usually somewhere between 5-20% off of your purchase) if you've "abandoned" you cart for a few days.
For example, I recently went to purchase a swaddle blanket set for a friend's baby shower. I was still shopping around so I added the blankets to my cart and forgot about them. Within two days the brand had emailed me a 10% off coupon to come back and check out. If you're not in a hurry to get an item, it's worth trying for a discount!"
#3: Discount Gift Card Spending
Melissa Vogt from MakeMoneyandSaveMoney.com shares,
"1st make sure you have downloaded a price comparison app. I like buyvia and shopsavvy. If you like to use a computer or laptop, then Honey is an excellent browser extension.
After I figure out which store has the lowest price and I know where I will be purchasing my item, I go purchase a discounted gift card to make my purchase. This way I know I am getting the best possible price with an extra bit of savings.
For Example: BuyVia tells me the lowest price on a new 6qt Instapot that I want is $79 at Walmart.
Rather than just using my debit/credit card to purchase this from Walmart I will go find the best discounted gift card to Walmart to get an even better deal.
There are several sites that sell gift cards at a discounted price. Many times, people get gift cards they just don't want or they need the cash so they will sell them at a discounted price and we benefit. The more popular stores like Walmart and Amazon don't sell for as much of a discount BUT you do still get a bit of a discount. Sometimes it's only 1 or 2%. I have seen some stores gift cards going for up to 55% off. The bigger discounts are usually at clothing retailers and Restaurants which also These also make great gifts."
#4: Use Sites that Give Discounts + Cash Back
Cam Finley from RealHomeJobsNow.com writes,
"If you're shopping anyway, why not get money back? Sites like Rakuten not only provide you with the best coupons and deals at over 2,500 stores online, but you will also earn cash back – usually from 1% up to 8%!
Get money back for shopping online at stores like Macy's, Ulta, Best Buy, and many more. Download the app for deals even when you're shopping in-store. Just go to Rakuten.com to create your account and get a $10 bonus! Rakuten will even pay you to refer friends and family."
This one plays in nicely with the next online shopping hack.
#5: Save Up to 60% On Your Next Online Purchase with this Little-Known Technique
Jim Conyers from BestLifeDaily.com shares,
"If you're anything like me, you want to maximize your dollars! When I'm getting ready to purchase something online, I start by logging into my Rakuten account (they offer a $10 credit when you first sign up) and search for the store I'm going to use. Rakuten will pop up with a certain percentage that you will earn back from them. The percent back can very but you'll see anything from 1%, 5%, 10%, etc.
I then start my search for the item I'm looking for and wait to see if that store will provide a popup offering 10-20% for signing up for their email list. If so, I'll sign up and get that coupon code to use.
You might also see some higher coupon codes on the sight that you can use when checking out. After locating the item and placing it in your cart, I'll see if Rakuten will offer any popup coupon codes they find. I'll use them if possible but if not I open the Cently app to see if it finds any other coupons on the web.
Cently is an app that scowers the web for the best coupons on the web so I don't have to waste time searching. The next step includes going to Raise or Gift Card Granny and try and locate a gift card with a good discount applied to it. Some cards offer 2%, 10%, 20%, etc. I'll then try and purchase one that is just under the total needed to purchase my item(s) from the store I'm shopping at.
I'll get the gift card that has a digit delivery, so I can use it immediately for my purchase. This really doesn't take long once you get the hang of it and the savings over the year can really add up. You can also get a $10 off of a $100 purchase for first time users of Raise. If you're ready to save some money on your next online purchase, you might want to give this little known technique a try."
#6: Use Rakuten (formerly Ebates) online for in-store pick up
Stephanie Schill from Wynninginlife.com writes,
"One of my favorite ways to save is using Rakuten (formerly Ebates)but for in-store pick up. For example, when Rakuten is offering 10% cashback at Kohl's and I need to shop at Kohl's, I don't want to leave that money on the table.
So, I'll shop on Kohl's.com using Rakuten, and choose in-store pick up. Of course, this only works if the item you're interested in is offered in-store. You can then drive to your local store, pick up your items and earn the cashback."
#7: Request Price Adjustments Yourself or Using an App like Paribus
Stephanie also shares,
"Many stores offer price adjustments if you purchase something, and within a certain timeframe, the item reduces in price. It gives you peace of mind as the purchaser that you're getting the best price. For example, Target, Kohl's and Gap all do this. I bought a dress on Gap.com and it went down in price a few days later. I called their customer service and they promptly refunded me the difference.
Depending on the value of the item and how good of a deal I received when I purchased, I'll typically keep tabs on the pricing of past purchases by lurking on the website and watching price fluctuations. If I see something has reduced, I'll request the adjustment. There are apps out there such as Paribus that will track purchases for you and automatically get the adjustment back on your behalf.
So, instead of you watching prices and requesting a refund, the app will do it for you. Whether on your own or though the app, it's an untapped money-back resource if you're not using it today."
#8: Use the Honey Chrome Extension
Sean O'Dowd, Personal Finance Expert for MoneyDoneRight.com writes,
"My favorite online shopping hack has to be a very popular app, Honey. Honey is a fantastic app that is always working on your behalf to save you money. All you need to do is install it on your Chrome Extension bar, and it will do the rest. Here's how it works. You go shopping on your favorite website, such as Amazon. Once you get to the cart, there is always that section where you can input a discount code.
Honey, however, has a huge database of discount codes. It will automatically start scanning for you to see if there is a discount code. If it finds one, it will apply that code to your total.
In other words, you don't need to do anything and Honey will automatically find you 10-20% off of your order! Sometimes, however, Honey is not able to find a code that could work for you. In these cases, while not as ideal as saving money, Honey often compensates you by awarding you "Gold." The more you spend, the more Gold you get. Gold can be transformed into gift cards for very popular brands.
Said more plainly, Gold is essentially cashback. In other words: Honey is great because it allows you to save a percent of your sales right there, and if not possible, it gives you cashback! A word of caution, though. Honey is a Chrome extension. To use it most effectively, you need to do your shopping on a computer and you need to download Chrome. However, the added hassle of being unable to use apps, such as the Amazon app, is worth it for the savings Honey can provide."
#9: Unlock Promotions by Picking Up in Store
Evan Sutherland from BudgetingCouple.com writes,
"Amazon's free shipping is convenient, but it might not be the cheapest option. Big chains are offering massive discounts when you buy online and pick up in store. Check out different companies' websites, and click the pick-up-in-store option to save money when shopping online."
For example, Petco offers 10% off when you opt to "buy online and pickup in store".
#10: Let Extensions Find the Savings for You
Lisa Hebert from MoneyMindedMom.com writes, "There are many ways to save while shopping online, comparison shopping, coupon codes, cashback portals, just to name a few but it can be frustrating and time consuming. Instead, why not install a few extensions browser extensions to do the work for you. I use three different extensions, that do all the work in the background. I use the Rakuten extension for cash back, Honey to find coupon codes, and Price Blink to search the internet to see if the same product is available at a lower price on another site. These extensions all work in the background and only show up when savings are found."
#11: Subscribe to Brand Email
Marissa Sanders from SimpleMoneyMom.com writes,
"It pays to subscribe to your favorite brands. Especially, smaller companies. For example, when I was breastfeeding my youngest, I LOVED Madela products. After subscribing to their list, I would receive periodic emails for free samples, discounts of up to 25% off new products and coupons in the mail for things I bought regularly. I must have saved hundreds of dollars on breast pump supplies, bottles, breast milk storage bags and more just for being a valued member on their list. Plus, I was able to stack some of their coupons to save even more!"
I would like to add, that you can use Unroll.me to add in all brands into one email that you get each day, instead of getting them individually. I've been using it for about 3-4 years now, and really like it.
How to Shop Free – Online
Sooo…you're looking for how to shop free, online. I mean – that's a pie-in-the-sky request. But you know what? I've actually got a few strategies for you that just might work.
#1: Change the Way You Search the Internet
Have you heard of the Swagbucks search engine? It's not Google. And it rewards you for searching the internet. As in, you can accumulate Swag Bucks (SBs) from your regular internet searches through them, and then you can convert those into cold, hard cash (I like to save mine up and get the $50 PayPal cash each time).
There are also tons of gift cards to all kinds of online retailers, and sometimes they even go on sale.
This is a great way to shop for free, online (funded by your online searches! I kind of love that).
Whew. There you have it! A bunch of tricks up your sleeve to save some serious money while shopping online this holiday season. Online shopping tricks and hacks, for the win!
The following two tabs change content below.
Amanda L. Grossman is a writer and Certified Financial Education Instructor, Plutus Foundation Grant Recipient, and founder of Frugal Confessions. Over the last 13 years, her money work has helped people with how to save money and how to manage money. She's been featured in the Wall Street Journal, Kiplinger, Washington Post, U.S. News & World Report, Business Insider, LifeHacker, Real Simple Magazine, Woman's World, Woman's Day, ABC 13 Houston, Keybank, and more.
Read more here
.
Latest posts by Amanda L Grossman (see all)