Need a list of inexpensive thank you gifts to get someone? Show your friend, coworker, a teacher or anyone how much you appreciate them (on a budget).
There are numerous reasons to give people gifts of thanks in our daily lives.
Such as:
Teachers, bus drivers, and other adults who have touched our kid's lives
Friends who have gone above and beyond to help us out
Coworkers who are moving away
Clients we want to thank for booking us
Volunteer workers
Etc.
In fact, there are so many reasons to give thank you gifts that you might just bust your wallet doing it.
Ever wondered what would be a nice thank you gift (without breaking the bank)?
These inexpensive thank you gifts will help you out so that you can show appreciation, but still keep your budget in check.
Inexpensive Thank You Gifts
Inexpensive? Yes, these thank you gifts aren't going to cost you much. But they will still get your feelings across to the person who counts.
And that's all that matters, right?
My favorite inexpensive appreciation gifts are below.
How adorable are these? Reviews say they taste good, too (that's always important in my book).
I think this idea is both creative and touching: why not buy your coworker a gratitude journal that they can keep up with…but then have your coworkers fill out one of the pages with reasons they are grateful for her/him?
Something to both treasure forever + use in their daily life.
Check out these super-cool, Morse Code bracelets! You can get them in phrases like:
Warrior
I Love You
You Are Enough
…And lots more colorful options
These bookmarks are so intricate, and beautiful!
Honestly, I can't believe how inexpensive they are.
Does your coworker nurse an iced coffee or other iced beverage throughout the day?
These Javasoks are REALLY well-made – I even have one, myself.
They keep the drink icy-cold for much longer, stop condensation from going all over the place (like a desk), and the drink still stands straight up (meaning, it's not so bulky that the drink sags to one side).
Plus, there are over 60 patterns to choose from!
Have you ever heard of Dutch Stroopwafels? I hadn't either, until my husband and I were traveling in Pennsylvania Dutch country and smelled an Amish man making them.
They're these beautiful, super-yummy, and quite unique cookies that you can eat alone or sit over your coffee mug until the caramel inside melts.
I was once given this tea tasting set as a thank you, and was gushing for a day! I just love the elegant packaging.
Where I used to work, they bought bulk employee appreciation gifts each year and handed them out at company parties.
One year, they got us this really cool candle with a nice wooden lid that actually sounds like a crackling fire when you burn it! Very classy, and super appreciated by those of us that didn't have a fireplace (me!).
We love trying different kinds of salts from around the world – and since it's salt, anyone you gift this thank you package to will be able to use it!
Here's the perfect way to say thank you – and it's travel-sized, which makes it helpful if they travel.
Small Thank You Gifts Ideas
Remember that it's not the size that counts. It's the thought and care that you put into it.
That means that small thank you gifts are every bit as capable of expressing your sentiment than large ones are (so long as you put thought into what the person might actually want or find useful).
Not to mention if you don't have much to spend, then buying something smaller sometimes means you can get a higher-quality item than if you were to stretch your dollars too far to get something big.
One of the things most people overlook (at least, I do!) are luggage tags. I always end up with the paper ones that eventually rip off.
How about gifting one of these nice sets?
There isn't a person in the world (well…maybe one or two) who doesn't love to cozy up with a pair of soft, quality socks.
Shopping for a thank you gift for him? Here's some really cool, heat-retention socks.
You can even put a cute message in the card, such as "Warm up your feet, like you warmed up my heart! Thank you."
Here's some classy and modern magnetic bookmarks.
These car essential oil diffusers are so snazzy, I actually several to friends and family last year!
Creative Thank You Gifts
A little creativity goes a long way when coming up with inexpensive thank you gifts.
Really want to get the point across of how grateful you are for such an awesome person in your life?
This box of pop-up cards is super creative – they get a new "thank you" message each time a card pops out!
Wow – look at these hand-carved, wooden bookmarks! Beautiful packaging, as well.
Check out one of these beautiful keychains.
Here is a very simple token of appreciation – comes with a poem as well.
Spread your gratitude around by gifting someone this deck of gratitude insight cards.
Homemade Thank You Gift Ideas
Some of the coolest gifts I've ever received were one-of-a-kind, meaning, they were homemade.
Homemade thank you gifts can be some of the best because you simply can't buy them in a store, and they reflect the care and thought a person put into showing their gratefulness to you.
1. Folded Book
My sister and her daughter actually have an entire side hustle around creating book fold patterns and book folds for craft stores. You can find a gorgeous, older-looking book at a book sale or used book store, then pick up one of these hundreds of cheap book-folding patterns.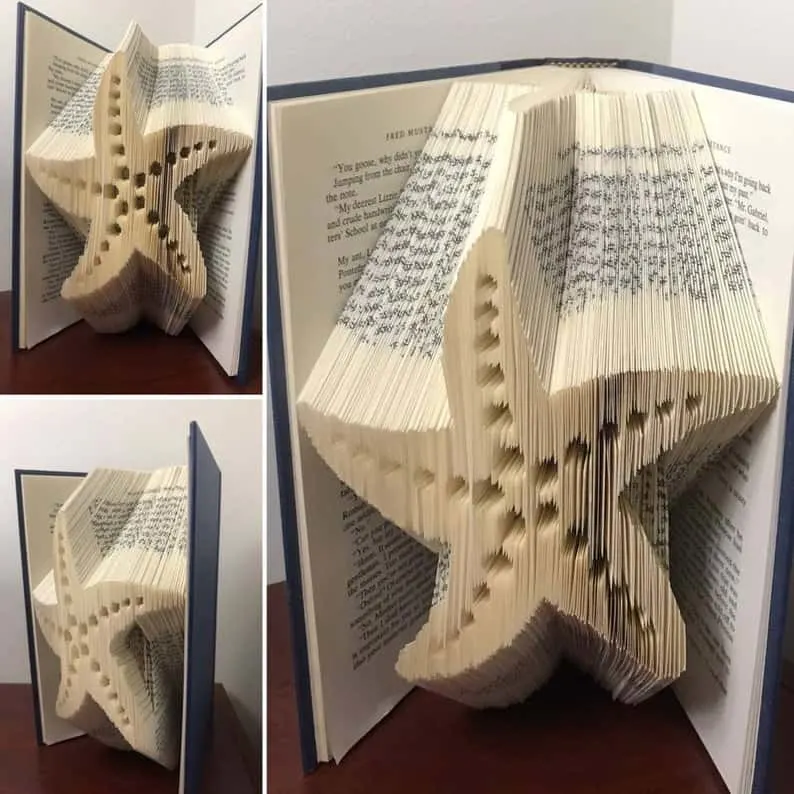 The results can be stunning, and it's so unique (though inexpensive, this one can take a bit of time!).
Cheap Thank You Gifts for Coworkers
In the office where I used to work as an environmental investigator, we had going-away parties to send off coworkers all the time.
What are good goodbye gifts? Glad you asked. Check out these cheap thank you gifts for coworkers that will show them how much they are appreciated.
Hint: remember that one way to make a coworker gift cheap for each person, but to get an overall "nice" gift for the coworker, is to collect a few bucks from people in the office.
I stumbled into a Five Below store a few days ago, and was SO pleasantly surprised with their book section.
They had no less than 5 different workbook/journal options (all for $5 each) that had to do with goal-setting.
Any of those would make a really nice, and useful, cheap coworker gift.
I think this idea is both creative and touching: why not buy your coworker a gratitude journal that they can keep up with…but then have your coworkers fill out one of the pages with reasons they are grateful for her/him?
Something to both treasure forever + use in their daily life.
A great, employee appreciation gift you can buy in bulk are these waterproof pads and pencils (with suction cups). They're awesome to catch ideas and thoughts while in the shower.
There may be lots of occasions in life to thank someone, so you want to make sure you know how to do it in a way that doesn't break your bank. These inexpensive appreciation gift ideas are both cheap, and will bring a smile to someone's face.
Let me know in the comments below which you're most excited to try out!
The following two tabs change content below.
Amanda L. Grossman is a writer and Certified Financial Education Instructor, Plutus Foundation Grant Recipient, and founder of Frugal Confessions. Over the last 13 years, her money work has helped people with how to save money and how to manage money. She's been featured in the Wall Street Journal, Kiplinger, Washington Post, U.S. News & World Report, Business Insider, LifeHacker, Real Simple Magazine, Woman's World, Woman's Day, ABC 13 Houston, Keybank, and more.
Read more here
.
Latest posts by Amanda L Grossman (see all)