Wondering how to save more money in 2018? Let me show you some set-it-and-forget-it methods that will set you up for savings success.
This is a sponsored post on behalf of PurePoint Financial. All opinions are my own and were not influenced by any parties.
You know the set-it-and-forget-it method, where you do the work once and it just magically works the rest of the time for you?
I love doing that for my savings account.
Each year I take a look at the numbers, add in some strategy, and manage to up my savings for the entire next year…in just one session.
Let me show you how to save more money in 2018 with just ONE burst of effort you can take right now.
But first? I'll share with you our personal savings-inspired action to help show you how lucrative taking action can be!
Our Savings-Inspired Action Step for 2018
I've got a secret for you – I recently realized that we could be earning almost DOUBLE what we are earning thanks to a bank that is solely set up for saving money. Except by recently, I mean like six months ago (for shame!). And I haven't changed banks yet.
So, this is my action step – I'm moving our savings account to PurePoint Financial's 0.40% APY (Annual Percentage Yield) . (pssst: this interest rate is so awesome at the time of writing this article that, while PurePoint Financial sponsored this post, they didn't have to ask if I'd like to move all of our savings over to their bank — THAT was a no-brainer!). And since I treat our savings account as a blackhole, it means I'm upping our savings account balance for the entire year + beyond.
We're doubling our savings earnings next year + beyond. Come check out how you can, too! #sponsored
Click To Tweet
I wanted additional accountability to actually get this step done. So below, you can see real photos of me at a PurePoint Financial Center opening the account: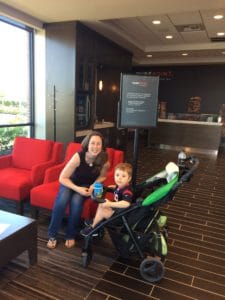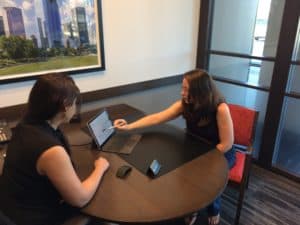 <*pats herself on back*>.
Now it's time for YOU to maximize your savings for all of next year.
Step #1: Look at Your Numbers from Last Year
You might be afraid to do this one. I mean, if I'm honest (and I'd like to think I am), then I'd admit to not saving as much money as I would even have liked to last year.
There was the unexpected dental surgery for my husband. There was Hurricane Harvey, which flooded one of our vehicles…and then a flash flood three weeks later that took care of the second one (*sigh*). There was even a $369 increase in our homeowner's insurance.
Still, we didn't miss all of our savings goals. For one, we maxed out both of our Roth retirement investment accounts ($5,500 each for the year). That's a success!
Your Action Step: Look at each of your accounts where you put money into over the last year. You can include a savings account, travel fund, emergency fund, and even retirement (though remember, this is an investment account, which is different from a savings account). Add it all up, and write down your total savings for the year. Was this more or less than you had hoped?
Step #2: Give Yourself Some Credit
You've looked at the numbers, and you're either happy or not-so-much. Either way, I want you to do one of two things:
Now it's time to get things crackin' for next year.
Step #3: Choose from these Savings Booster Actions Below
Here's where things get a little fun.
Let's basically guarantee you'll save more money over the next 12 months. You can do that by choosing from one or several of these savings-inspired action steps:
Optimize Your Savings Space: Have you looked at competitor's savings account interest rates over the last 12 months to make sure your bank is at the top? Here's the thing – if you google "best savings account interest rates", then you'll likely see banks offering around 1.3% at the top. That's not bad. But I've got a secret for you: there's a hybrid digital bank called PurePoint Financial that is solely focused on savings accounts and CDs. Because of this niched down focus, they're a market leader in savings account interest rates, offering an incredible 1.40% APY right now. Is it time to move your money? I know it was for us.
Increase Your Retirement Investment Account Percentages: Are you taking full advantage of your employer's retirement matching plan (if they've got one)? My own brother wasn't for the last few years, even after I told him he was leaving free money on the table (he is now!). It might be daunting to think about getting a smaller paycheck come January 1st, but even upping your contribution by 1% – something you'll hardly notice – will set you up for bigger retirement savings over the years. Even better? This is a percentage. So, the amount you're setting aside for retirement automatically increases each time you get a raise, without you having to do anything else. Score!
Set Up Automatic Savings Deposits with HR: If you haven't jumped on the automatic savings bandwagon yet, then you need to. When saving money is left up to you manually logging into your account and transferring it over, it's less likely to happen (at least consistently). Instead of just setting up direct deposit into your checking account, ask your employer's HR department if you can split deposits between a checking and a savings account. And if your HR doesn't allow this? Then simply set it up with your online banking system (pssst: if you already have automatic withdrawals to savings set up? Bump it up by $50/month. Or $100. Your choice.).
Now it's your turn. Sit down to run your numbers. Then choose one, two, or three of the savings-inspired action steps above. Do this, and you might just be calling 2018 your Year of Savings.
And if moving your savings over to a bank with a current 0.40% interest rate is at the top of your to-do list, then find your local PurePoint Financial Center here, or check out the Houston locations below:
Sugarland: 310 Hwy 6, Ste 500, Sugar Land, TX 77478
Phone: (832) 935-6110
Galleria Area: 1800 Post Oak Blvd, Ste 6150, Houston, TX 77056
Phone: (346) 802-6323
The Woodlands Area: 9595 Six Pines, Ste 1500, The Woodlands, TX 77380
Phone: (346) 831-6080
Champions Forest: 5503 FM 1960 Rd W, Ste 108, Houston, TX 77069
Phone: (281) 836-9374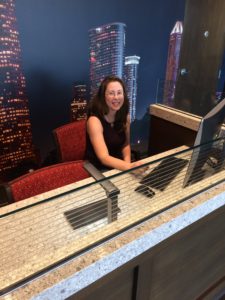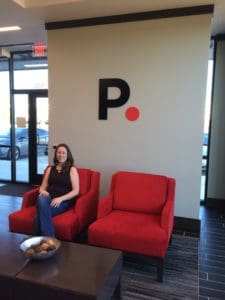 The following two tabs change content below.
Amanda L. Grossman is a writer and Certified Financial Education Instructor, Plutus Foundation Grant Recipient, and founder of Frugal Confessions. Over the last 13 years, her money work has helped people with how to save money and how to manage money. She's been featured in the Wall Street Journal, Kiplinger, Washington Post, U.S. News & World Report, Business Insider, LifeHacker, Real Simple Magazine, Woman's World, Woman's Day, ABC 13 Houston, Keybank, and more.
Read more here
.
Latest posts by Amanda L Grossman (see all)