Frustrated by trying to find a Starbucks discount promo code? I feel your pain. Let me show you how I do it (plus 4 other ways I receive discounts).
I've detailed before several Swagbucks internet searches you can complete that will save you lots of money over the years. Oddly enough, the one that I use without fail – searching for an online coupon code for anything I happen to be purchasing online – did not make those lists.
It's simple, really.
When you come upon the checkout screen where there's a discount code box, you simply put the name of the retailer into the Swagbucks search engine and add the language "online code", or "coupon code", or anything else you think might pop up a nice percentage off for you.
But you know what? My success rate for this is only about 50%. Fifty percent of the time I find a working coupon code from one of the various online coupon code sites vying for the top slot in my search results.
And the other 50% of the time (while my baby is tugging at my pant leg and increasingly whining for me to leave the computer)? The code doesn't work. Neither does the second one I find, nor does the third. At which point I just give in and make the purchase without receiving any sort of discount.
Then, I was approached by Dealspotr. So, I decided to take their challenge, and see if I could find online promo codes for a Starbucks discount.
But before I reveal those results, I've got several other ways I (and you) can enjoy a Starbucks discount.
Ways to Score Online Codes + Discounts for Starbucks
Since I don't like to spend money, and yet I seem to find myself at Starbucks more than usual these days (I work there on Saturdays while my husband watches our little guys, and two other times during the week with our unique childcare system we've figured out), I've made it a hobby to find ways to save money off my order.
Current savings ideas include:
Joining their Rewards Program: I'm a gold member of their reward program, and each $125 I spend in food/drinks/etc., I get a free drink or food item. I typically use my rewards for food items since they cost more than my drink (and on Saturdays I need to eat lunch while working there all day).
Ordering Refillable Teas: If I'm going to be working at Starbucks all day, I'll sometimes order a tall drink (like passionfruit iced tea with half the normal sweetener) and then get a free refill on it around midday.
Using Free Gift Cards from Our Credit Card Company: I occasionally cash in our credit card rewards points for free Starbucks gift cards.
Play their Summer Games: They periodically have online promotions where you can play a game and potentially win free items. In the last few weeks, their summer games have earned me 22 free stars!
All of this is great…but what about using an online code for their site as a cherry on top?
Finding Online Coupon Codes for Starbucks
It's no secret that finding online coupon codes for a Starbucks discount is kinda hard to do. They're just not a discount-type store.
And when you do find these codes, they're not very good (or at least not for anything I'd like to spend money on).
That's why when Emily from Dealspotr showed me a side-by-side comparison of online codes from the site I normally end up using, Retail Me Not, versus Dealspotr, I was floored with the difference. See for yourself:
Retail Me Not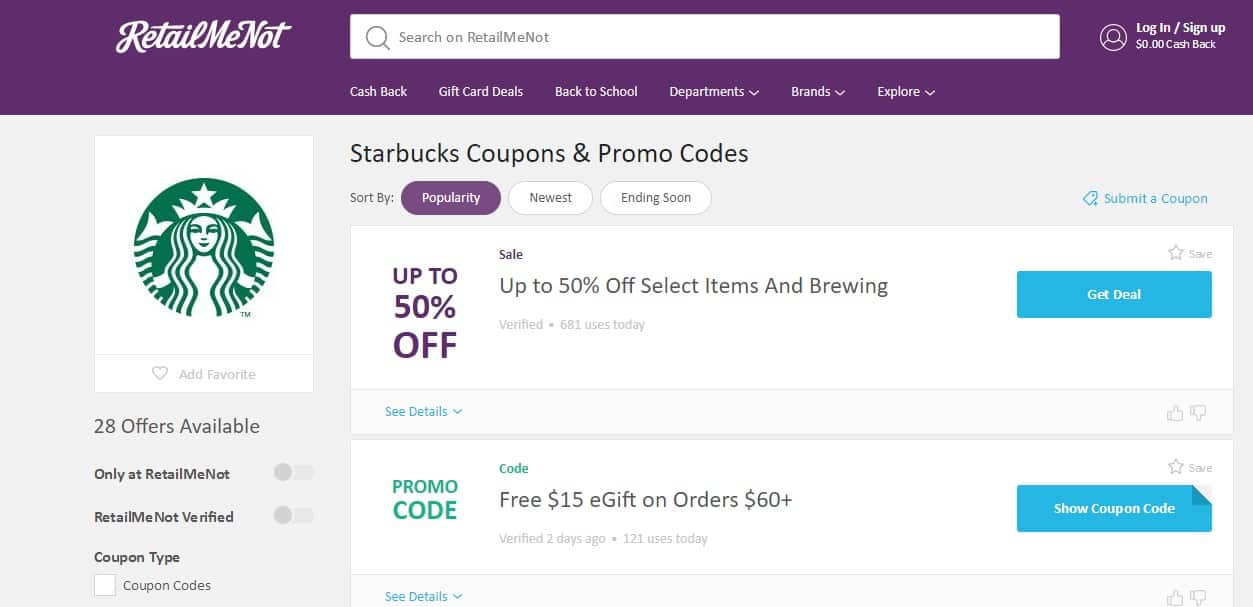 Dealspotr
You'll notice that on RetailMeNot.com, the best code you can find is for orders over $60. But on Dealspotr, you can get a code for 10% off of your entire order.
Something else you'll notice? On the top righthand corner of the Dealspotr Starbucks page, you'll see that it was updated by an actual person just 42 minutes ago.
In other words, someone is on the other side of the computer screen making sure the deals are the most up to date and expired deals are taken down in a timely manner.
I like that. I like it so much that several years ago, I wrote a whole post on how to get through to a live person when dealing with companies.
What else makes Dealspotr different?
Stores Can Upload Single-Use Coupons: That 10% coupon code for your first order is unique from other discount code sites because Dealspotr's platform allows community members to upload single-use coupons.
You Can Receive Referral Codes: Not only can you get a discount, but you can get referral codes so that you earn some sort of reward for referring the discounted product to family or friends.
Third Party Codes Also Included: They also will show third party codes, or discount codes at other retailers that can be used on the brand you're shopping for.

https://www.frugalconfessions.com/wp-content/uploads/2017/08/Copy-of-Copy-of-Copy-of-Twitter-Post-–-Untitled-Design-2.jpg
512
1024
Amanda L Grossman
https://www.frugalconfessions.com/wp-content/uploads/2019/02/frugal-confessions-logo-340.jpg
Amanda L Grossman
2017-08-23 05:00:08
2019-05-08 11:41:04
Can You Find a Starbucks Discount Via Online Promo Codes?