Zombie debt…did you know it's an actual thing? Let's discuss what zombie debt is, and how long can a collector pursue an old debt from you.
How long can a collector pursue an old debt?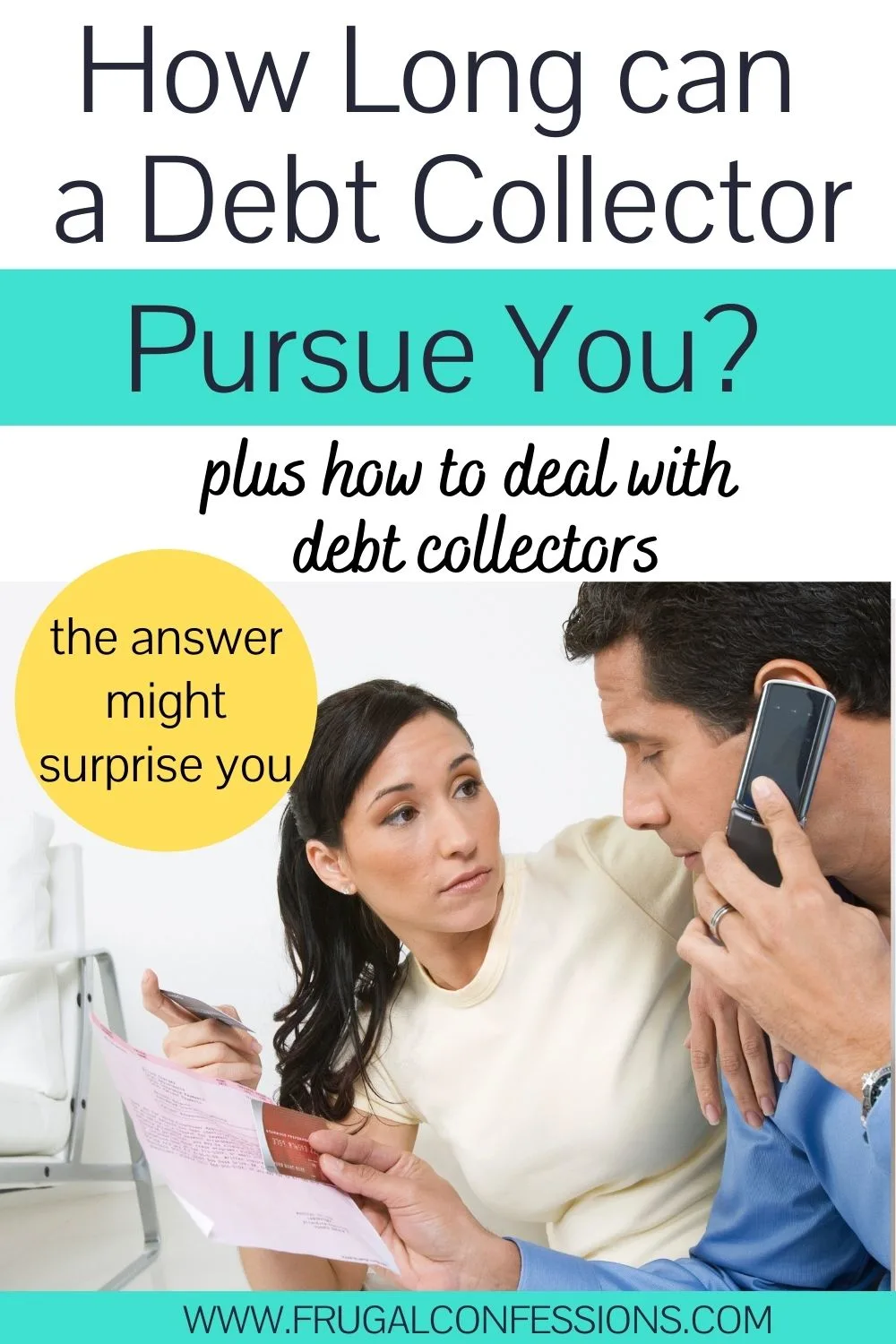 The fact that there is something called "zombie debt" should be an indicator that it might be much longer than you think.
And certainly longer than you think your debt should be allowed to live.
Let's look at what zombie debt is, and what it means for you.
What is Zombie Debt and Why is it a Problem?
Yes, you heard me right. There is something called "Zombie Debt", and it's got nothing to do with past-due bills owed by a pack of flesh-eating zombies.
'Zombie Debt' has got nothing to do w/ past-due bills owed by a pack of flesh-eating zombies.
Click To Tweet
You see, debt has a built-in end date (just like bad people in horror movies…until they turn into zombies and come back for round two).
I'm not talking about moral responsibility-end date.
But after a certain time period, debt collectors and creditors can no longer sue you for past debt owed.
That's because there's a Statute of Limitations for debt, and when your debt reaches it depends on your state and the type of debt you owe.
Can a Collection Agency Collect on a Debt After 7 Years?
However, just because you can no longer being sued for that Victoria Secret's-obsession racked up in your early 20s doesn't mean collection agencies can no longer repurchase this debt from other collection agencies and continue to pursue you for it (here's how to deal with debt collectors).
As in, phone calls, letters, etc.
Pssst: and in some states, if you make even a partial payment on a debt that is 20-gazillion years old, it restarts the Statute of Limitations clock, which means you can now be taken to court over this debt again. So it's in your best interest to learn about your own state's procedures and rules.
The reason that collection agencies will do this is because the colder a debt trail becomes, the cheaper it is to purchase. And when you're paying pennies on the dollars to purchase debt, you only need to collect a fraction of it in order to make it profitable for you.
It's like your debt has risen from the place you thought it had died and is reaching its grisly hands out for you once more.
Psst: even if your debt is forgiven by the creditor, you may still owe money on it. To the IRS, that is. Check out why the IRS thinks that money you were forgiven is added income. Talk about haunting!
So how, exactly, are you supposed to handle this situation?
Beating Zombie Debt – How to Combat Zombies
…well, how to combat Zombie Debt, that is. Full Disclosure: I'm not a Zombie combat expert by any means.
Step #1: Ask them this Question
The first thing you should do is ask the debt collection agency whether or not your debt has reached its Statute of Limitations.
Why would you ask the wolf how to get to your grandmother's house? Well, by law, if you ask the debt collector a question they have to answer it truthfully (whether or not they will answer it truthfully is another question altogether…and if they don't? Well then you might be able to turn around and pursue them).
Step #2: Then Ask them this Question
The next question you need to ask the debt collector is when your last payment was made. This might come in handy when you need to figure out whether or not your debt is actually outside of the Statute of Limitations or not (turns out, Debt Collection Agents sometimes lie).
Step #3: Ask the Debt Collector to Validate the Debt
You'll find all the information you need to have your debt validated in this article where I talk about the 7 Deadly Sins You're Committing when Dealing with Debt Collectors. The reason you want to do this is you want to make sure the debt is yours for sure. Bonus is that doing this buys you a little bit of time to figure out your next step in this process.
Because let's be honest, despite its name and the slow nature of actual Zombies, Zombie Debt can come at you fast and completely out of nowhere.
Just like a slow-moving pack of Zombies could come surround you in a secluded farmhouse on a particular night due to radioactive contamination from a space probe (just watch the movie, okay?), Zombie Debt can find its way into your life as well. And it's best to educate yourself first, as you may do something unknowingly even in that first conversation that could cost you a lot of money + headache down the road.
Have you ever experienced Zombie Debt…and lived to tell the tale? Comment below with your experience.
The following two tabs change content below.
Amanda L. Grossman is a writer and Certified Financial Education Instructor, Plutus Foundation Grant Recipient, and founder of Frugal Confessions. Over the last 13 years, her money work has helped people with how to save money and how to manage money. She's been featured in the Wall Street Journal, Kiplinger, Washington Post, U.S. News & World Report, Business Insider, LifeHacker, Real Simple Magazine, Woman's World, Woman's Day, ABC 13 Houston, Keybank, and more.
Read more here
.
Latest posts by Amanda L Grossman (see all)