How to deal with debt collectors? I can guarantee you're going to commit one of these 7 deadly sins if you don't read this ahead of time. Save yourself the hassle!
Have you ever had the pleasure of speaking dealing with a debt collector?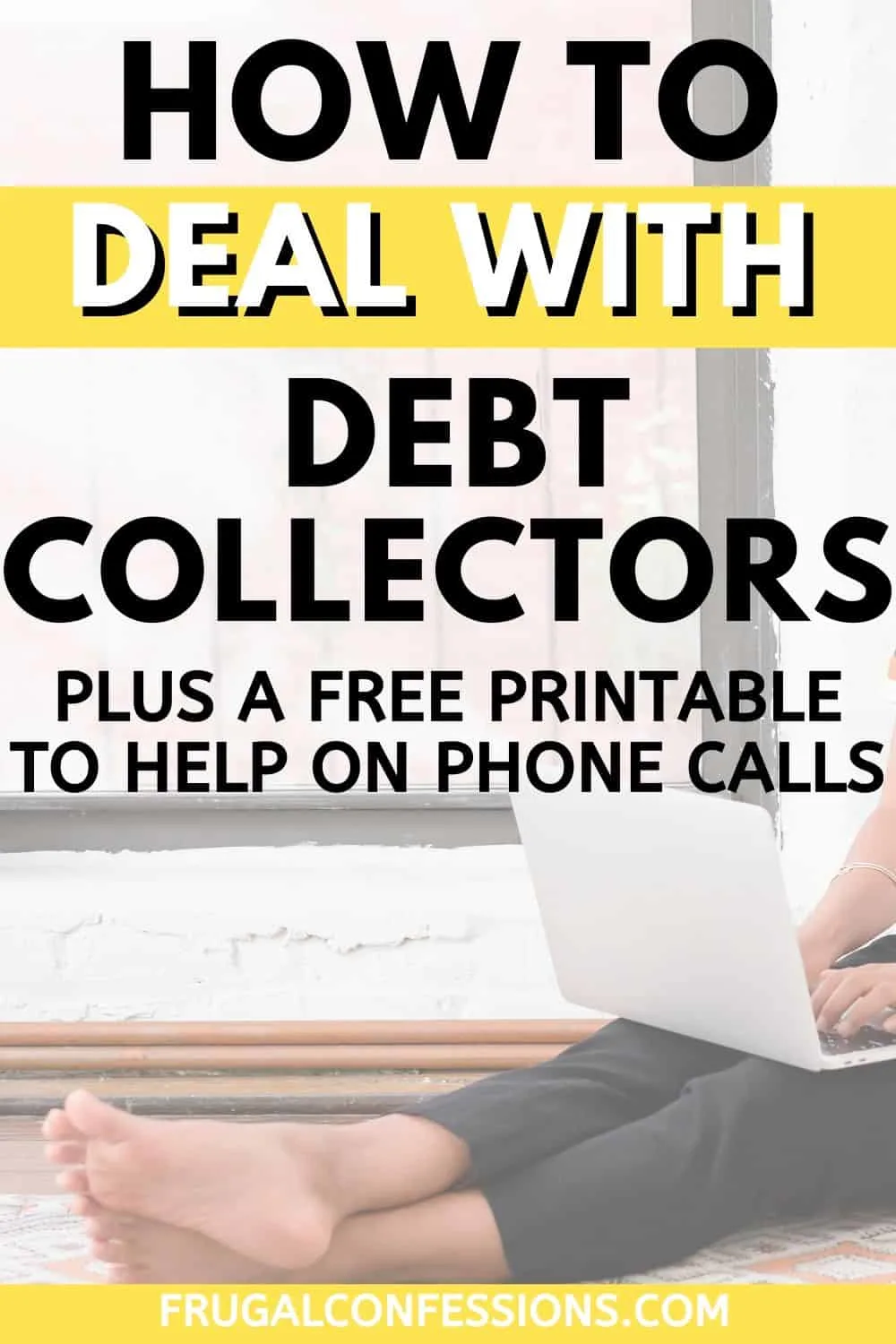 Given the stats and nature of the 897,655 FTC complaints brought against them, the odds are that if you've spoken to a debt collector, then you've committed at least one of these deadly sins below.
Just by being aware of your rights means it's less likely they'll try sneaky, illegal tactics with you the next time around because they'll know they're dealing with someone who is informed.
Debt collectors also call consumers mistakenly and reel them into the debt collection life-cycle as well, so even if you're thinking a debt collector would never call you, it's still possible.
Zombie debt is a thing, my friends.
Read up and get informed!
Reminder: The Fair Debt Collection Practices Act (FDCPA) covers third-party collectors, not your primary creditor. Also, it does not cover debts incurred to run a business.
Deadly Sin #1: Not Getting Your Debt Validated
You know you owe fill in the blank for your debt. Then one day, James calls you and says you owe him that same debt. How do you know he has the authority to collect on it (and better yet, that he has the authority to give you credit for any payments made)?
You better believe collection agencies try to coerce consumers into paying unsubstantiated debts and amounts that were not even owed by them in the first place.
Any debt collector who calls you needs to validate your debt.
The Legal Skinny: According to the Fair Debt Collection Practices Act, within 5 days of contacting you the third party collector is required to provide you with a validation notice stating the alleged amount of debt, the original creditor, and the process for disputing the debt. They don't often do. So make sure that within 30 days of them first contacting you you send a written request for validation via certified mail with receipt (so that there's proof). Depending on the debt collection agency you're dealing with, you might want to send a PS Form 3817, which provides evidence that mail has been presented to the Postal Service for mailing.
Deadly Sin #2: Failing to Show Up to Your Court Hearing
Being sued by a creditor is about as fun as getting poked in the eye with a stick…repeatedly (which is part of the reason why between 60% and 95% of consumers who are sued for debt fail to show up).
But rest assured, you need to show up to court. If you don't? They automatically win and oftentimes your wages will be garnished (and even more interest + fees possibly tacked on) without you knowing it.
Well, you eventually find out. When your paycheck is a lot lower than usual.
The Legal Skinny: If you don't show up, then the judge basically has to rule in the debt collector's favor. Then the debt collector is allowed to do many things, such as secure a court order to seize part of your paycheck, seize bank accounts, and charge high interest rates. You've got to show up to your court date.
Deadly Sin #3: Failing to Call them on Their Crap
If a debt collector ever tele-bullies you by posing as a fraud investigator looking at suspicious activity on your credit card to get you on the phone, or as a lawyer who is going to bring a case against you tomorrow (calling from a shelter law firm that's really a call center, or using a lawyer-sounding name), know that this is not only unacceptable, but illegal.
Also, if a debt collector ever tele-bullies you with things like, "I'll throw you in jail", or "police are on their way to arrest you", or insert other outlandish lie, know that they have to abide by certain laws while debt collecting.
(psst: Don't believe me that debt collectors would say such crazy things? Watch John Oliver roast the Debt Buying industry, specifically at 6:53 where he's collected real examples of outlandish and illegal lies are left on people's answering machines).
The Legal Skinny: Debt collectors must read some sort of disclosure statement − known in the industry as the "mini-Miranda" − informing you that the purpose of the call is to collect debt and any information given will be used as a means to that end. If they don't? Look at the number on your phone and plug it into a Google Search. See below for more information about dealing with harassment. Also, this isn't Charles Dickinson-England. There is no debtor's prison in the United States.
Psst: are you in medical bill collections? Read about the 5 tools you have at your disposal to fight it.
Deadly Sin #4: Continuing to Accept Abusive Phone Calls at Dinner Time
You barely get enough time with the little ones, your significant other, or the DVR as is. Why would you want to sacrifice this time dealing with abusive calls from a collection agent (who knows this is likely the best time to reach you at home)?
The Legal Skinny: First, put them on notice to stop calling you. This is done simply by telling them that you feel their behavior is harassing and/or abusive. You can submit, by certified mail with receipt (so you have proof) a Cease Communication Demand. Note that you can still legally be contacted in acknowledgment of receipt, and to inform you of the next legal steps in the process. Also, check out the harassment definition to see if you are being harassed. Also, no calls are allowed before 8:00 a.m. or after 9:00 p.m. unless you specify it's okay. And you probably wouldn't do that, would you?
Deadly Sin #5: Failing to Get it In Writing
Should you end up in court, it becomes their word against yours (and typically they take notes and have better records, unless you're a former environmental investigator, like myself). So as with any financial dealings, get it in writing.
The Legal Skinny: You've seen an episode of Judge Judy, right? Here is all of her episodes in a nutshell: if it isn't in writing, it didn't happen. This means you want to do things like write down dates of phone calls and retain voicemails.
Deadly Sin #6: Stopping Telesharks from Embarrassing You at Work
Writing a letter of indebtedness to your employer (apparently this is an especially popular tactic if you're in the military) can be hugely embarrassing. Other ways they have of embarrassing you at work include illegally sending wage garnishment papers through the general fax number, constant calling, calling the switchboard and getting coworker's extensions and then calling them to track you down, etc. The thing is, they'll use your work as bargaining power (who wants to a coworker − or worse −a boss knowing about your debt?) to get you to take action by saying something like, "I will not longer call right after you send in $XX.XX."
The Legal Skinny: Only the original creditor is allowed to write a letter of indebtedness to your employer, not the third party collection agency. Also, you can stop phone calls without giving them something in return (see Legal Skinny #4).
Deadly Sin #7 Getting Wrangled into Paying on a Zombie Debt
Listen − you can pay on an expired or zombie debt if it sets your conscious free. I'm all about personal responsibility. But you should know that you are not legally obligated to do so, even though collection agencies may still try to get you to.
The Legal Skinny: Debts expire both on your credit history report as well as with collection agencies being able to sue you for them. Unsecured debts are subject to a statute of limitations under state laws. It all depends on the state, type of debt, and whether any payments have been made since the initial delinquency. For more information on your state's statute of limitations, your state's Attorney General's Office can be found at www.naag.org. Know that certain actions you take could increase the length of the statute of limitation.
Know that you can sue for up to $1,000 penalty + reasonable attorney's fees + court costs + actual damages if a collection agency is in violation of any of the sins above (ha! Look at that turn of events − collecting money from a debt collector).
Here's a link to a state-by-state small claims court list and information.
And money actually has been awarded in favor of people like you. Such as this couple who won a $1,051,000 harassment suit against Bank of America. Or Jessica Burke who won $33,000 in her harassment case against a debt collector.
You need this information handy when/if that future tele-shark calls. So I've created a free printable for you to keep where you house all your debt info (in the front/on top, please. These people can really catch you off-guard!).
The following two tabs change content below.
Amanda L. Grossman is a writer and Certified Financial Education Instructor, Plutus Foundation Grant Recipient, and founder of Frugal Confessions. Over the last 13 years, her money work has helped people with how to save money and how to manage money. She's been featured in the Wall Street Journal, Kiplinger, Washington Post, U.S. News & World Report, Business Insider, LifeHacker, Real Simple Magazine, Woman's World, Woman's Day, ABC 13 Houston, Keybank, and more.
Read more here
.
Latest posts by Amanda L Grossman (see all)