Cloth diaper tips based off of our experience with using cloth diapers to save money for the first year of our baby's life.
FYI: this blog post is dripping with cute baby photos.
I knew in the very beginning of getting pregnant that I wanted to cloth diaper. What I didn't know was that this would be a much more okay idea with my grandmother and mother-in-law − both of whom cloth diapered themselves − than with my peers.
In fact, Paul and I have mostly been met with scrunched up faces and questions revealing the owner's disgust with our choice (you might be scrunching your face up as well!).
I knew in the very beginning of getting pregnant that I wanted to cloth diaper.
Click To Tweet
But since we generally follow the beat of our own wallets − and buying reusables instead of consumables is something we already do (such as using dish towels instead of buying paper towels, or using the Reveal Mop that allows you to wash the mop head instead of the Swiffer where you have to purchase new pads) − we went ahead with it anyway.
Plus, I was encouraged by both a friend's positive experience with them (thank you SO much for your help with this, Aurora!), as well as the people in an online Facebook group: Fluff Love and CD Science.
Buy Used Cloth Diapers Like We Did
Buying used cloth diapers is, honestly, what saved us a ton of money. Because buying an entire stash of new cloth diapers? Is going to cost you.
Let me share with you how we got our total supply.
We received six cloth pocket-diapers (BumGenius 4.0) plus one package of inserts as baby shower gifts.
And my friend Aurora gave us five used covers that can be filled with an insert plus 10 prefolds.
I then purchased a pack of six inserts for $17.99 that I can use with the refillable covers, plus five Snappis for $14.98 so that we can use the prefold cloth diapers with the covers as well. I used a gift card for these purchases.
Aurora gave us 17 used reusable wipes, we received a package of reusable wipes as a gift, and then I purchased two packages of reusable wipes with gift cards, making our total number of reusable wipes 37 (about three days' worth). I already owned a small spray bottle that I repurposed for wetting the reusable wipes.
We also had to purchase a different kind of diaper rash ointment that is safe for cloth diapers (the green tube of Boudreaux's Butt Paste − you can choose from a list of other safe ones), so this was $8.19.
And then after I determined that we wanted to go ahead with cloth diapering − we couldn't know until we actually tried it out for a bit − I invested in a Kanga wet bag with a gift card ($18.99). You can also just use doubled-up grocery bags like we did for a month.
Total Out of Pocket Cost: $8.19*
Note: these results are NOT typical! Through the generous help of others we were able to build up a supply that makes a meaningful dent in the cost of raising a child. For ideas on how to save money building your own supply, see below.
Our Experience with Cloth Diapering and Reusable Wipes
We started easing into cloth diapering about one month after our little guy was born. Up to that point we used disposables as we were adjusting to about 10,000 brand new things (it takes me awhile to incorporate new things into my life, so that first month was overwhelming enough!).
At first, it didn't go so well. He would pee (as in saturate) through about 60% of the cloth diapers.
But I'm so glad we stuck with it. With the help of the Fluff University Facebook group, Aurora, and some experimenting (plus a dash of patience), I was able to figure out that I needed to put the extra part of the insert that flapped over in the back, not in the front. For whatever reason, this made all the difference.
Then the little guy got thrush in his mouth, which subsequently turned into a yeast diaper rash. So we had to use a medicine that I found out could not be used on the cloth diapers without a buffer in between his skin and the cloth diaper.
So we were stuck using disposables until we cleared the rash up, which took approximately 3 days each during two different outbreaks (yeast can be difficult to get rid of!).
I also bleached our entire supply of reusables at this point so that we could kill any residual colonies before using them again.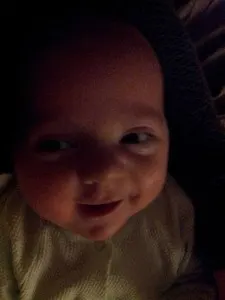 Do Cloth Diapers Save Money? The Digits
If you look online for bulk wipe purchases, you can generally get them for $0.02 each. In any 24-hour period, we use approximately 13 wipes. So the monthly savings for us is approximately $7.80, or $93.60/year.
You can generally buy bulk diapers at a cost of $0.16 each. In any 24-hour period, we use approximately 10 diapers. So the monthly savings for us is approximately $48.00, or $576/year.
Estimated Annual Savings: $669.60*
Note: there are, of course, additional water and electricity costs with washing diapers. However, I can confidently say that they are negligible in our household. Our water bill before cloth diapering was $30 and some change each month, and it still is. And our electricity bill for December? A mere $35, which is in par with our other December energy bills from years past.
Strategies to Get in On Cloth Diapering for Cheap
There is definitely an initial investment with cloth diapers (an investment that will pay you back and then some). So how can you take a minimal financial hit in the beginning and start reaping the savings more quickly?
Buy Used: Yes, you can buy used cloth diapers! People sell them on Mommy Facebook groups and elsewhere. You can bleach and/or strip them so that you feel more comfortable using them on your own baby (and some moms who thought they wanted to cloth diaper but didn't get into it have practically new ones to sell).
Cloth Diaper Co-Ops: Apparently there are cloth diaper Co-Ops where you can get steep discounts by buying bulk with a group.
Put it on your Baby Registry: Filling out a baby registry? Be sure to include cloth diapers on it. Some registries even allow you to asterisk beside the items that are a priority for you so people may be more likely to purchase them.
Use Gift Cards: Earn gift cards by searching the internet, use gift cards received at birthdays and the holidays, sign up for the Amazon.com Visa Card to get their $50 gift card…there are lots of ways to get gift cards and then use them to slowly build up your stash.
To be honest, I'm not just cloth diapering to save money. I love the idea of not having to run out to the store when we are out of diapers or wipes. I love being a bit more resourceful and doing something to make our household more sustainable. And of course, yes, the money savings is the cherry on top.
I'm not just cloth diapering to save money. I love the idea of not having to run out to the store when we are out of diapers or wipes.
Click To Tweet
Do you cloth diaper? Would you consider it?
Baby Money + Prep Posts You Want to Check Out:
My Freezer Cooking Day (for Baby + Beyond)
The More-than-Turnip-Sized Financial Digits
The following two tabs change content below.
Amanda L. Grossman is a writer and Certified Financial Education Instructor, Plutus Foundation Grant Recipient, and founder of Frugal Confessions. Over the last 13 years, her money work has helped people with how to save money and how to manage money. She's been featured in the Wall Street Journal, Kiplinger, Washington Post, U.S. News & World Report, Business Insider, LifeHacker, Real Simple Magazine, Woman's World, Woman's Day, ABC 13 Houston, Keybank, and more.
Read more here
.
Latest posts by Amanda L Grossman (see all)