At 9 months pregnant I recently completed my first freezer cooking day! Boy am I glad I did, as those freezer meals saved us in the first few months with our new baby.
For years I've had those "40 freezer meals in 4 hours" type posts filling up my Pinterest and Facebook feeds. I've drooled over these lady's organization, forethought, and recipes.
But I also enjoy cooking from scratch with fresh ingredients.
Not every night, for sure. The way it works in our household is my husband, Paul, works 7 days on, then has 7 days off. So I typically do all the cooking while he's "on", then he — who also loves to cook from scratch — takes over when he's on his off days. By the time it's each of our turns the other is refreshed and rearing to go.
Enter: baby.
Well, not yet, but he's definitely coming! (At least that's what the docs keep telling me;)).
Last week it dawned on me that I needed a plan so that we don't end up zombie-calling the same three takeout places over the next few months.
So I decided that now was the time to try out a freezer cooking day (and boy am I glad I did; I've done one more since and documented it with a video recording, plus a free printable ingredients for you to replicate).
Here are the steps I took this past weekend:
Step #1: Found Freezer Space
So, our freezer was alarmingly full when I opened it on Friday. The good news is that some of the stocked items already in there will fit nicely into my freezer cooking plan.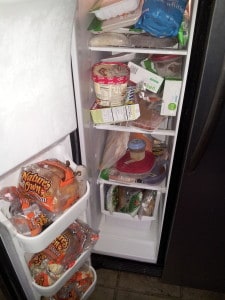 I spent an hour cleaning and organizing everything, plus wiping up several messes I didn't realize were in there.
Step #2: Made a List of What We'd Like to Eat
I've got a vision for how the food situation is going to go over the next few months. In my ideal scenario, I'm taking out beautifully-labeled and organized bags of food with easy prep (such as: unseal bag, throw into crockpot in the morning, smell all day; or heat up in oven at 350 degrees for 1 hour) and pairing them with healthy, easy sides like a thrown-together salad or box of tomato bisque soup from the grocery store. Sometimes we get takeout (I've started collecting menus from some local places), and sometimes we stumble into grocery stores and raid their prepared food sections (Paul, I'm thinking this is you on the way home from work).
Then I fully expect to have an arsenal of 20-minute (Rachel Ray, eat your heart out!) meals that are super easy to make from scratch, like our staple Butternut Squash Mac'n'Cheese we both enjoy.
Going along this line of ideal thinking, here are the kinds of meals that appeal to us:
Some sort of Taco Bell-like Cantina Bowls (fresh ingredients to buy the week that we actually eat these would be sour cream, cilantro, and tomatoes)
Crockpot Bag Meals (all the ingredients are frozen into a big bag, so you just dump it into the Crockpot at a certain point in the day and wait for deliciousness to manifest)
Breakfast Burritos
Freebirds-like, monster burritos (without the beans!)
A few pasta dishes we can eat from for several nights and Paul can take into work for leftover lunches, like Paul's delicious lasagna
Chili (made by Paul, and frozen into smaller portions for some awesome, easy baked potatoes and

frito

chili pie)
Homemade Pizza dough frozen in one-dinner-sized portions
Some items I want to have frozen in single portions, some in dinner-sized portions (so for two of us), then some in big portions for a few days of leftovers.
Step #3: Figured Out Who has Good Recipes for this Kind of Thing
MoneySavingMom has been doing freezer cooking for years, so I knew she'd be a good resource to turn to. Then I hit up Pinterest as well, which was super fun.
Here are the recipes I found that excited me + my palate:
Step #4: Made a List of What to Get from the Store
First, I took a look in our freezer and pantries. We need the space in the freezer anyway, and it just makes financial sense to use what you've got.
Other than the ingredients itself, here's what I bought:
Gallon-sized Freezer Bags with labels
Quart-sized Freezer Bags with labels
Individual-sized, restaurant-style, aluminum foil takeout bowls you can put straight into oven
Step #5: Bought the Food + Materials in Preparation
This one sounds like a no-brainer. But when you're 9 months pregnant (yes, perhaps I should have started this portion of my nesting a few weeks earlier), getting through a grocery shopping trip makes for a triumphant day. It's amazing how winded I get on doing the simplest daily tasks!
Side note: I am often deeply touched by the kindnesses of strangers lately. For example, when I 'made it through' my two-week grocery shopping trip last week, the person bagging my groceries automatically called over an associate and said 'he'll unload for you in your car' without me even asking. Which is a good thing because this DIY, farm gal can be terrible at asking for help.
Ingredients + Materials total: $95.08.
Step #6: Actually Did It
Being 9 months pregnant, I have found that I seem to have a set portion of energy + motivation to use each day. And once it's gone, I get a little cranky. There's aches, there's pettiness, and then I melt into sheer exhaustion on the couch until Paul tucks me in.
Sad, but true.
So actually carving out my time to do anything these last few weeks means that I am definitely saying 'no' to other things. And since I could really go into labor at anytime at this point, it puts a bit of urgency to everything on my to-do list.
Still, I know how invaluable spending a few hours in kitchen prep will be in the coming months, saving us not only money (I estimate each freezer meal I get prepped will be a realized savings of about $10-$15 in the next few months), but time, bad takeout food, sanity, and energy to spend with our little guy and alone together.
And I'm so happy that I prioritized this!
Here are the results: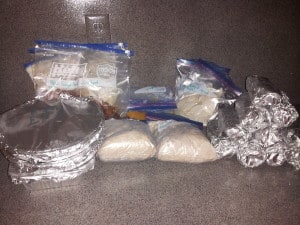 10 Protein-errific Breakfast Burritos
4 portions of Butternut Squash Puree (I use this in the butternut squash

mac'n'cheese

, which takes under 20 minutes to make once you have the puree done)
3 One-Sized portions of homemade pizza dough
3 Chicken Broccoli Alfredo Dinners (that homemade sauce? Turned out

soooo

yummy)
2 Hoisin Ginger Beef Dinners
2 Butternut Squash Ravioli Dinners
2 Slow Cooker Bacon Ranch Chicken Dinners
Still to make:
I still have tons of ingredients to make the cantina bowls, and hope to do so over the next few days. I estimate I'll get 4 meals from the ingredients left.
Chicken Tinga (the recipe calls for 3 lbs. of chicken, which I did purchase and still have; however, that seems like a lot for two people to me! So I might play with the recipe). I estimate the ingredients left will yield 4 dinners.
Chicken Tortilla Soup (2 dinners' worth)
Not bad! And if I don't get to the remaining meals, not only do I feel good with what I have already, but  the ingredients aren't going anywhere, so we can use them in the months to come.
Granted, it took me all day. However, 'all day' included built-in breaks to prop my feet up, keeping up with cleaning while I went, and eating at least every two hours (I also didn't start until about 10:00 a.m.). Besides, this was my first time freezer cooking, and at 36 weeks I'm a bit slower moving these days! I'm definitely feeling more prepared, and will likely continue doing freezer cooking days in the years to come.
Your turn: do you undertake freezer cooking days? If you have a child, what preparation did you do beforehand?
Your Meal Plan + Grocery Strategy Hook Up:
Meal Planning Examples: Steal My Personal Meal Planning + Grocery Shopping System
Steal My 15 Healthy Freezer Meals on a Budget {Follow-Along Video + Printable Ingredients List}
Steal My 2 Week Meal Plan on a Budget {Free Printable Ingredients List}
Baby Money + Prep Posts You Want to Check Out:
Steal My 15-meal Freezer Cooking Day Plan {Follow-Along Video + Printable Ingredients List}
Our Experience with Cloth Diapering + Reusable Wipes
The More-than-Turnip-Sized Financial Digits
https://www.frugalconfessions.com/wp-content/uploads/2015/09/freezer-cooking-day.jpg
512
1024
Amanda L Grossman
https://www.frugalconfessions.com/wp-content/uploads/2019/02/frugal-confessions-logo-340.jpg
Amanda L Grossman
2015-09-07 05:00:39
2019-05-14 19:44:44
My Freezer Cooking Day (for Baby + Beyond)