Financial independence starts with getting your money life in order. If you give your money a purpose, the order will show up.
Many people do not respect money.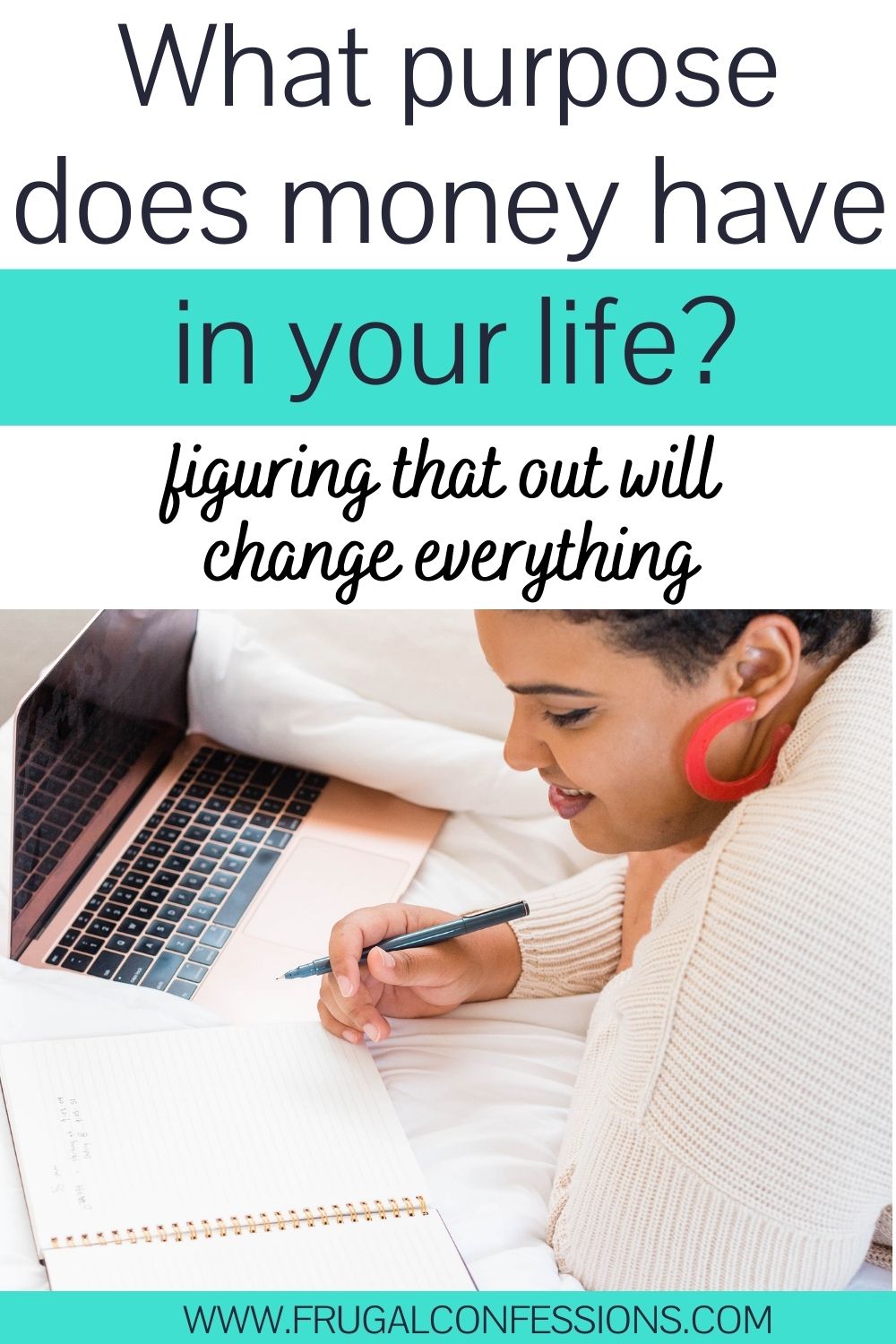 It comes in and out of their lives, but they don't attempt to harness it or to use it for anything besides this month's groceries and an annual vacation.
They don't give their money purpose, and thus paying $20 extra at the mall or being in debt does not really matter to them the way that it should. Let's face it, without purpose anything can be squandered.
I am here to tell you that your money needs a purpose.
It is not just a vehicle to pay your gas bill each month; it represents an extension of your self.
Money represents the life energy you are willing to exchange for it, and it represents the fuel behind your life. Life is not all about money by any means, but without money, your life can become very difficult.
For the time being, let's stop thinking about money as a green piece of paper and start looking at it for what it really is: your life energy and your future.
Life Energy and Your Money
All of us have a certain amount of time and energy available for trade. Our most common trade is for money so that we can afford to survive, and to one day live the life that we choose.
The most common denomination of life energy traded is 40 hours per week, and the median 25 year old + American income is $32,140 per year for this trade, or approximately $15.45 per hour (before taxes).
Think about the sacrifices you will have made for your next paycheck: being away from friends and family, perhaps boxed inside without a window (that's me!), suffering through a commute, perhaps you will feel under the weather one day but will go to work anyway, sleep deprivation, stress…the list is endless.
Now, think of your purchases in terms of the amount of life energy that goes into them: Using the example salary above, a $14.95 book purchase will cost me almost one hour of my life energy. A $14,000 used BMW will cost me approximately 906 hours of life energy, or 23 workweeks (if paid for in cash). A $250 new desk will cost me 16 hours of life energy.
If you make more money than the median, each purchase will cost you less in life energy. If you make less money than the median, each purchase will cost you more in life energy.
When you use this method and truly begin to think about the amount of energy that goes into your money, then you can more easily prioritize your spending. Some things will be truly worth a purchase, while other things will become completely worthless in your eyes.
For more information on this, I highly recommend the book Your Money or Your life.
Fuel Your Dreams
Money is not the sole fuel behind your dreams and future aspirations, but you will need money to do just about anything that you want to in life.
If you want to have children, move out of your parent's home, globe trot, join the peace corps, live independently of others, start a foundation to help those in need, retire on a yacht, etc., you will need money to accomplish this.
So not only does your money represent stored energy from your job, but it is also what is going to fuel your future endeavors.
In this sense, think of your saving account as a battery: it is storing up your life energy to be used in the future in a way that you choose.
This should have a huge impact on your purchase decisions, as each purchase that you choose to make is X amount of dollars less that you will have for your future goals.
Do you want to fuel your future dreams with a triple A battery, or with a car battery?
Giving Your Money Purpose
The way that you use your money should be a natural extension of you: your thoughts, your dreams, your goals, your values, etc.
If you are currently spending money without your purchases reflecting these important values of yours, then you are squandering your life energy.
Ouch. Really think about that one.
After all, who wants to work 40 hours a week in a gray cubicle only to spend the money that you traded your time and energy to cover survival costs only: food, gas, rent, and utilities?
And if you are currently paying off debt, then you are literally spending at least 40 hours per week to pay off last year's grill. I think we all want more than this.
You want financial independence instead.
Once something has a purpose, it is much more difficult to squander away, which is why you need to give your money a purpose. What if you don't have any goals? Start to think about where you see yourself in five or ten years.
Don't sell yourself short: you can have or do or be whatever/whomever you want to no matter what kind of money you were born into, or no matter what kind of current financial circumstance you are in.
Don't let the fear of money keep you from seeking your true dreams.
Here are some common financial goals:
Emergency Fund
Retire by Age XX
Travel to _______
Purchase a Home
Have a Baby/Add to our Family
Open a Business
Some of our own personal goals are to retire with dignity, to continue to travel the world, to travel to Alaska next year with part of our family, to have an eight-month emergency fund, and to pay for everything in cash.
By having these dreams and goals, we are able to prioritize our money and to give it a purpose.
Our paycheck/life energy is divided up into different categories, with a percentage being used to live on today, a percentage going towards our long-term goals (retirement), and a percentage going towards our short term goals (Alaska and emergency fund). It is much more satisfying to us that we are using our life energy to obtain money that is being used to fund our goals and values.
What are some of your goals? What does financial independence look like to you?
The following two tabs change content below.
Amanda L. Grossman is a writer and Certified Financial Education Instructor, Plutus Foundation Grant Recipient, and founder of Frugal Confessions. Over the last 13 years, her money work has helped people with how to save money and how to manage money. She's been featured in the Wall Street Journal, Kiplinger, Washington Post, U.S. News & World Report, Business Insider, LifeHacker, Real Simple Magazine, Woman's World, Woman's Day, ABC 13 Houston, Keybank, and more.
Read more here
.
Latest posts by Amanda L Grossman (see all)