Did you know there are limits to how many times can I transfer money from savings to checking? Let's look at federal limits known as 'Regulation D'), as well as fees you might be charged.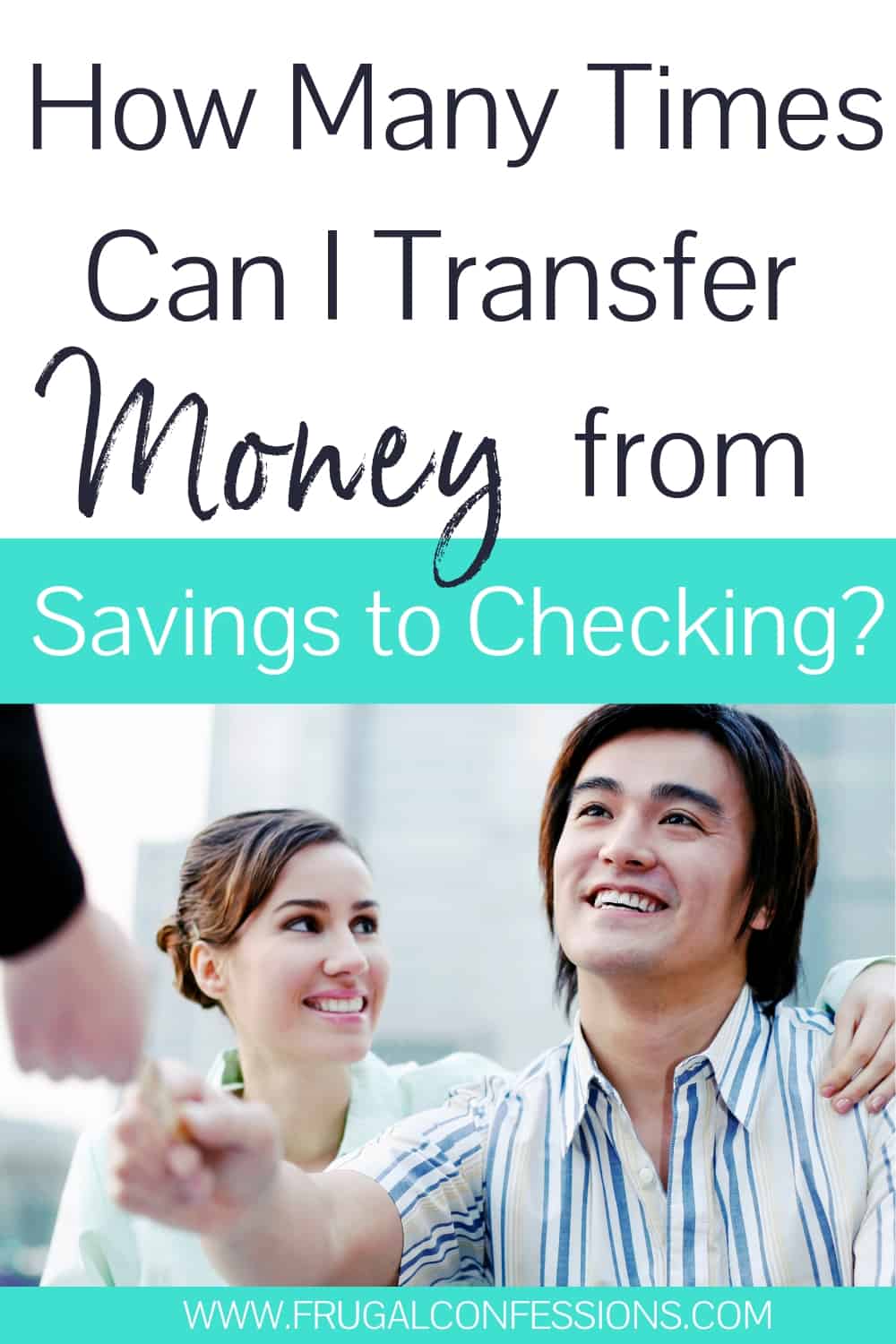 Even though we treat our savings account like a black hole from which we rarely extract cash, there have been a few occasions over the years when we've made a withdrawal.
Off the top of my head, this included when we put a down payment on our home, and when we paid for our last beater car with cash.
In other words, we've never had problems with the monthly limits on the amount of withdrawals that can be made from a savings account.
Like me, you've probably noticed these limits when filling out the paperwork.
But did you realize that this was because of federal regulations, and that it could end up costing you money?
Psst: it was updated in 2020, and this article includes the new rules.
How Many Times Can You Withdraw and/or Transfer from Savings each Month?
Up until April 23, 2020, there was a strict limit the Federal Reserve board placed on withdrawals from a savings or money market account.
According to the Federal Reserve Board (Reserve Requirements for Depository Institutions Regulation D, or "reg d"), there is a limit of 6 withdrawals or outgoing transfers per month from savings or money market accounts.
But as of April 23, 2020, these limits were lifted. Meaning, you can now make more than 6 withdrawals or transfers from a savings deposit account in one month (though, you'll want to read on, as you may still get charged a fee for doing so).
The Federal Reserve did this to:
Make Accessing Your Money Easier: In these economic times, they wanted to make it easier (and less expensive) for people to access their savings and money market account money when they need it.
Align with their New Policy: The Board reduced all reserve requirement ratios to zero, meaning banks no longer need to distinguish between checking and savings accounts.
It's important to note that this interim rule permits, but does not require, banking institutions to adhere to it. And, as you'll see below, many banks are still charging for an excess of 6 transfers and withdrawals from savings deposits accounts.
The types of transactions that are counted towards this reg d limit are:
"preauthorized or automatic transfer, or telephonic (including data transmission) agreement, order or instruction, or by check, draft, debit card, or similar order made by the depositor and payable to third parties."
You should also know that monthly limit is based on when the transaction is PROCESSED, not when you write the check or authorize it.
The reason for this is a savings account is classified as a "savings deposit" by the Federal Reserve Board, which carries a 0% reserve requirement for banks. In other words, the bank does not need to keep any of the money that you put into your account in a reserve (they can loan it all out and earn interest, which is why you earn interest on your savings).
BUT, if you start making lots of transactions out of the account, then you're treating it like a makeshift checking account — and the federal reserve board doesn't like that.
Note: Comments around the internet I came across while researching this article show that some banks will penalize you for making fewer than 6 withdrawals, so be sure to check with your banking institution or read the fine print on your savings account.
Savings Account Transfer Limits by Bank:
Bank of America Transfer Limit Per Month: Each month you can make up to 6 withdrawals from savings, with no penalties. After that, you're charged a $10 Withdrawal Fee (unless you maintain a minimum daily balance of $20,000 in the account).
How Many Times Can You Withdraw from Chase Savings: You're limited to 6 withdrawals from your savings account each month, and a $5 Savings Withdrawal Limit fee is charged when you go over that.
How Many Transfers from Savings to Checking Allowed Wells Fargo: Wells Fargo has a 6 transfers limit (though they say to check your account's specific terms and conditions), and will charge you a $12.50 excess activity fee for going over it. Online and mobile transfers above the limit are automatically declined, FYI, to protect you from having your account closed down and/or converted to a checking account.
How Can this Can Affect Your Overdraft Protections and Cost You Money
Do you have your savings account linked to your checking to help with Overdraft Protection? Then you might end up paying this fee without realizing it.
Banks offer Overdraft Protection, or a way to cover your purchases/debits/transactions if you don't have enough money in your checking account for the transaction.
One of the ways they do this is by linking your savings account to your checking account, and then allowing (by you signing a document giving permission) them to take money from your savings and put it in your checking to cover insufficient amounts.
In theory, this saves you money because if you overdraft, then you don't have to pay that pesky $30-$45 in insufficient funds fee.
However, with the six-withdrawal limit placed on savings accounts, if you happen to overdraft too much in one month, you might still get charged a fee.
When Does Regulation D Reset for You?
There is not currently a federal limit on withdraws or transfers from your savings deposit accounts.
So, the limit of 6 withdrawals or outgoing transfers per month on savings accounts resets on your bank's schedule (if they are still charging a withdraw limit fee).
If you're in need of money before your bank resets their 30-day cycle? Then check out the following "loophole" to get around it.
ATM withdrawals from a savings account actually don't count towards your 6 withdrawals. Neither do withdrawals you make in person!
So, if you're in a pinch, you could always go to your bank, withdrawal the amount you need in person, and either deposit it into your checking account (if that's where you need it), or take the money. These types of transactions from a savings deposit account were never limited by Regulation D.
Why Does Regulation D Exist?
Regulation D is a way to ensure banks keep enough "reserves" (meaning, money) on hand.
See, banks take the deposits you and others make, and they lend it out to people to earn interest. Loans to others are for things like mortgages, cars, etc. (heck, you might even have one of these loans from a bank!).
But a bank cannot loan out ALL of it's reserves (or money), because then if too many people want their money back at once, the bank might go under.
The required amount of money a financial institution (like a bank or credit union) must keep is based on the balance of it's transactional accounts (aka, checking accounts).
What are the Penalties When There's Too Many Withdrawals from Savings Account?
So what could happen if you exceed this limit, or the more stringent limit your bank imposes?
There are three possible penalties for going over your withdrawal limits on a savings account or money market account, per the law (before the interim rule took effect on April 23, 2020):
You are charged a fee.
Your account is closed.
Your account is converted into a checking account.
What this will look like to you, the consumer:
An Error Message: Some banks will not allow the transaction to occur, and instead you will receive an error message.
A Penalty: You may be assessed a monetary penalty per transaction above the limit.
Termination/Transfer of the Account: If you go over the limit, then your account could automatically (with notification, hopefully) be re-characterized as a checking account.
You're Charged an Overdraft Fee: If you happen to have overdraft protection set up to come out of your savings account, and you go over your withdrawal limits before it kicks in, then you'll be charged an overdraft fee.
Have you ever exceeded the limit of withdrawals? How were you notified, and what was the outcome?
The following two tabs change content below.
Amanda L. Grossman is a writer and Certified Financial Education Instructor, Plutus Foundation Grant Recipient, and founder of Frugal Confessions. Over the last 13 years, her money work has helped people with how to save money and how to manage money. She's been featured in the Wall Street Journal, Kiplinger, Washington Post, U.S. News & World Report, Business Insider, LifeHacker, Real Simple Magazine, Woman's World, Woman's Day, ABC 13 Houston, Keybank, and more.
Read more here
.
Latest posts by Amanda L Grossman (see all)