All of the car rental hidden fees kind of make you want to not rent a car in the first place, huh? I'll break down some hidden rental costs you may be in for, so that you can budget accordingly.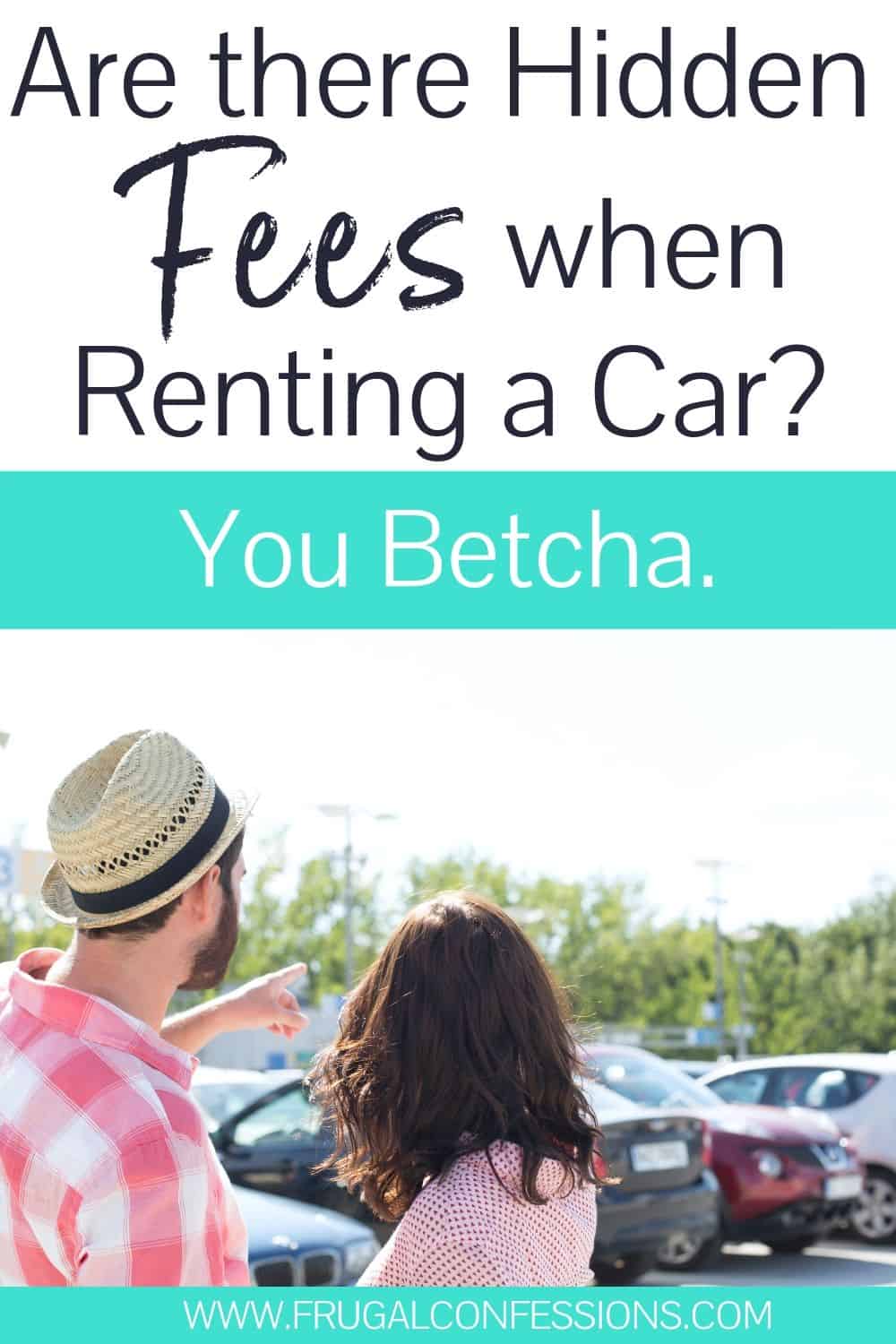 Have you ever noticed how difficult it is to comparison shop rental cars because of all the car rental hidden fees that are added onto the base rate?
It's maddening.
I've rented a car three times in my life. The first was on a memorable first business trip to Fargo when I was 23 (a difficult feat, as rental companies get nervous about customers under 25). The second car rental was for the two days leading up to our wedding in PA. We had so many errands to run and places to be that, while I normally borrow a car from my Dad or Mom when we are home, I decided it was best to rent one. And my third car rental was just several months ago when I splurged while on a business trip by driving an hour outside of the city of Denver to go to a hot spring.
My husband, Paul, has rented several vehicles this year due to business trips, and my aunt and uncle rented one when they came to visit us. Since I have not rented many cars I haven't really paid attention to the rental car industry and all of the fees that come with it. But looking at each of our receipts over the past year made me realize that rental car advertised prices on websites (you know, the kind that promise "rentals from $11.95") are bogus.
That's because the quoted, advertised car rental price is generally the "base rate", and not your total cost.
What Does Base Rate Mean Car Rental?
Before we talk about hidden car rental fees, you need to know what the advertised car rental rate is. When you get a quote for a rental car, or when you see an advertisement for a rental car, the amount on it is known as the base rate.
You can think of a car rental base rate as just the beginning point of your expenses. It's the cost of the rental, minus all the taxes, fees, surcharges, mileage costs, and any optional items you choose (like car seats, GPS, or having an additional driver).
Do NOT, I repeat, do NOT, think that this is what you will actually pay.
That's because, on top of taxes they assess on the total bill, there are lots of hidden fees when renting a car.
Are There Hidden Fees when Renting a Car?
Yes — there are tons of hidden fees when renting a car. With the passing of the new Department of Transportation rules, airlines now must list all of the fees and taxes within the quoted airfare.
Unfortunately, there appear to be no such rules for car rental companies.
Here are some examples of fees/taxes that showed up on our receipts (and not in the advertised price):
A Rental Car from Hertz in Texas: This receipt included a Concession Fee Recovery (11.11%), an Energy Surcharge ($1.03 per rental), a Busing Cost Recovery fee ($5.49), a Customer Facility Charge ($3.75 per day), a Vehicle License Cost ($2.46 per day), and a tax of 15%.
A Rental Car from Avis, Colorado: This receipt included an energy recovery fee ($0.60 per day) and a Road Safety Fee ($2.00 per day). Actually…not bad! But I did only have the car for about 5 hours…
A Rental Car from Dollar Rental, Washington: This rental included a surcharge ($24.00), a fee to use GPS ($59.75), a Vehicle recovery fee ($1.75), a Concession fee (11.10%), a Customer Facilitation Charge ($6.00 per day), and VLF ($0.35 per day).
On top of these fees listed above, there are many others that might show up on your own receipt. These could be fees for earning frequent flyer miles, local government fees to fund specific projects, a fleet recovery fee (literally you are being charged a fee because one day the company will have to replace the vehicle you are renting), administrative fees tacked onto any fines/violations incurred or for using a device that allows for high-speed electronic toll collection, refueling charges, etc.
What are Car Rental Fees?
Let's take a look at some of the more common car rental fees, so that you know what to look for, and what the heck your bill (plus the fine print) means.
Concession Fee Recovery: This is an extra fee usually found on cars that are rented straight from an airport. (In case you ever wondered, "is car rental more expensive at airport?" It is.).
Energy Recovery Fee: One company explains this as a fee to, "help recover the escalating energy costs related to our business operations."
Energy Surcharge: This is a fee to "offset the significant costs of utility charges, bus fuel, oil and grease, and related costs."
Busing Cost Recovery fee: This is a fee to use the rental car buses that you see at airports.
Rental Contract Fees: Charged by airports, an collected through rental companies.
Customer Facility Charge: This fee is from the airport, and it's collected by the rental company.
Vehicle License Cost: Companies charge this to offset their cost for licensing their vehicles.
Toll Transponder Fee: Did you know rental cars often charge a fee if you go through a toll and use their toll transponder (I'm not talking about the toll cost, but an extra fee just for the convenience of using their equipment)?
Drop-Off Fee: You might see this if you request to pick up from one facility, and drop-off to another location.
Additional Mileage: Know what your mileage limit is for each day, and make sure you stay under this or you'll be charged an extra fee per mile above it.
Child Safety Seat: You generally have to rent a child car seat if you need one.
Prepaid Fuel: This is a fee you pay that purchases a full tank of gas, so that you can return the car without having to fill it up on the way in. HOWEVER, you likely will waste money doing this, unless you time it to use up the entire tank of gas you're on when you hit the rental driveway to drop it off.
There's even more fees than these, I just wanted to list many of the common ones.
Here are direct links to check out the fees from major car rental companies:
Hacks for How to Avoid Extra Car Rental Fees
So how can you save yourself some money if you do need to rent a vehicle? By using these car rental hacks to avoid as many fees as possible.
Never Rent Your Car from the Airport Counter: One way is to never rent a car from the airport counter. Find local transportation (bus or train; paying for a taxi cab might eat up all of your savings) that you can take to a nearby rental facility and you could save on the Concession fees.
Don't Get Double Insurance Coverage: Check with your car insurance ahead of time and see if they cover you when renting a vehicle. Many car insurance policies do, and this will save you from purchasing the rental company's liability insurance. Here's a guide for how to choose whether or not to get car rental insurance.
Rent from a Person, Not a Company: There are several sites that have popped up that allow you to rent people's personal vehicles. These sites offer insurance coverage for the duration of the rental, and there are few (if any) fees involved. Turo, in particular, has prices that are about 40% cheaper across the board!
Fill Your Own Tank of Gas: There's typically a surcharge if you return a car without a full tank of gas. So, on the way back, use your smart phone to locate the nearest gas station to the facility itself and return the car with a full tank.
Don't Opt for the GPS: Just use your smart phone's GPS, and save yourself an extra fee. Of course, the easiest way to save on rental fees is by not renting a vehicle at all. But this is certainly not always possible. I hope to not have to rent a car for years to come, but the next time that I do, it would be nice if all of the fees and taxes were included in the quote.
Ask Your GPS to Skip Tolls: When using the GPS on your smart phone, make sure you click the box to skip toll routes. That way, you won't get that toll transponder fee.
Only Have One Driver: If you just have one driver, then you won't get hit with an Additional Driver fee (note: some car rental places do not have this fee, so check around and see if you can find one that doesn't).
One more thought: if you were charged a really stupid rental car fee (or any hidden fee, really), then use Consumer Report's What The Fee to report it. They collect this kind of information, and try to work on behalf of consumers as a whole to stop these types of things from happening.
What types of rental fees have surprised you?
The following two tabs change content below.
Amanda L. Grossman is a writer and Certified Financial Education Instructor, Plutus Foundation Grant Recipient, and founder of Frugal Confessions. Over the last 13 years, her money work has helped people with how to save money and how to manage money. She's been featured in the Wall Street Journal, Kiplinger, Washington Post, U.S. News & World Report, Business Insider, LifeHacker, Real Simple Magazine, Woman's World, Woman's Day, ABC 13 Houston, Keybank, and more.
Read more here
.
Latest posts by Amanda L Grossman (see all)