Would you sell your wedding rings to raise money, or after a divorce? If you're wondering "where can I sell my wedding rings?", then read on.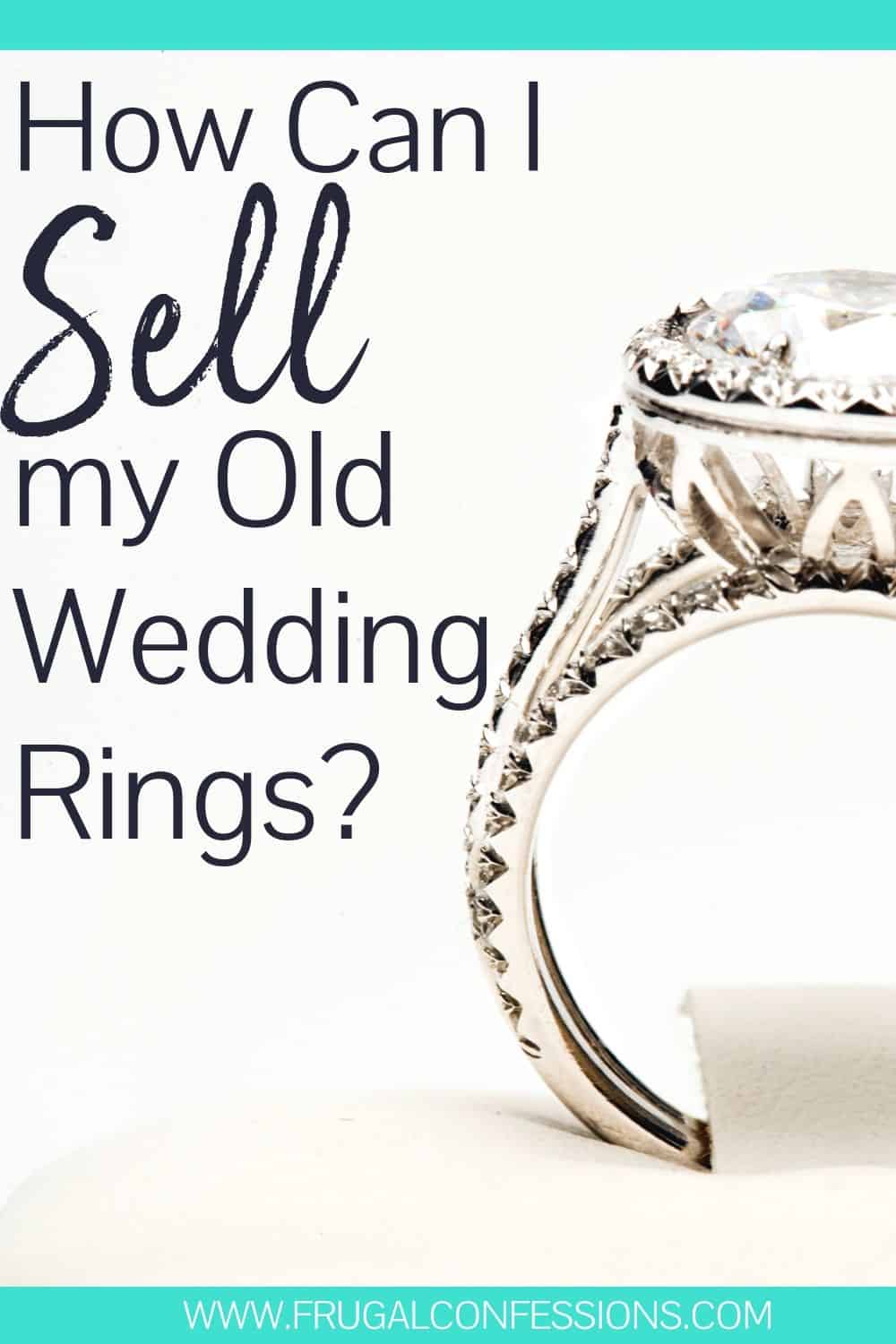 A few years ago, during the television show Downsized, the Bruce family was faced with losing their entire emergency fund (again) due to a big hospital bill, a car breaking down, and various other unexpected costs with the kids. The husband (Todd) was dealing with the problem by negotiating with the hospital, car repair parts place, dentist, and each of the other vendors in order to lower their overall bill.
But the wife (Laura) had another idea all together: sell her engagement ring and wedding band.
This sparked quite the conversation in our household, as I had once suggested we do the same thing.
We Almost Sell My Wedding Rings
When Paul proposed to me in June 2009 he presented me with a gorgeous engagement ring. It was a platinum band with a beautiful clear-cut diamond cast between two diamond baguettes. The proportions were perfect for me — the diamond and band were not too wide or gaudy — and the setting was not so high that I felt it would catch on everything.
And then I found out how the ring felt like it was made for me: Paul had designed it with the jeweler.
After deciding that it was time to propose, Paul spent several lunches with a jeweler on Buffalo Speedway to mold some metal and a stone into a beautifully shaped token of love.
I gladly accepted.
We did not want a long engagement so we began planning for the wedding almost immediately. I had not been saving for one as most of my teenage and young adult life I didn't think I was the marrying type. In fact, the only reason why I said yes was because it meant that I got to spend the rest of my life with Paul — the rest of being married I figured we could work out.
Combined we were $25,000 in debt at that moment, we wanted to put a decent downpayment on a home, and we wanted to pay for our wedding in cash. All of this was to happen within the next 8-9 months. One day during a pragmatic conversation about finances and the wedding day I decided to throw out an idea he might be up for.
"I think we should sell my engagement ring to help pay for the wedding."
It was almost dead silence after that, followed by a few minutes of a look of disbelief coming my way.
I knew that selling my ring would get us a notch closer to being where we wanted to be. In my mind, having a wedding band would signify I was married and since I do not wear much jewelry anyway what on earth would I do with two rings? On top of that, I thought it was a beautiful sacrifice I was willing to make for our newly forming family — if nothing else, it showed that expensive things were not what I wanted out of this relationship.
Am I reminded each and every day when I wear one of these rings (admittedly I typically do not wear them around the house on weekends) of Paul's love, our commitment, and our relationship?
Absolutely.
But personally? I get the same reminder from seeing Paul, talking with him, running through memories in my head, perusing our photos, working around our home, and anything else in our lives.
Paul had a different reaction all together, much like Todd's reaction on Downsized. To Paul, this ring encapsulates his love, devotion, and commitment to me.
Even though it is just an object, it is an emotional symbol for him that holds much more than a stone. My willing to sell it made his heart hurt. Paul and I are both reading the book The 5 Love Languages, and gift giving happens to be one of the languages in which some people primarily express their love for others, or primarily receive love from others.
I do not think this is Paul's primary love language, but gift giving and receiving certainly holds emotional value for him. Wedding rings in particular hold a lot of sentimental value for almost everyone — including myself.
They are written into most wedding ceremonies, forever symbolizing love and commitment towards one another. They are so symbolic that when a marriage is on the rocks or towards its end, you oftentimes see the person stop wearing the ring all together or wear it on another finger.
And selling your ring after divorce? That's actually quite common. Let's take a look at the ins and outs of selling your wedding ring, whether you're getting a divorce, trying to pay for a large purchase, or trying to pay for your wedding bands.
Is It OK to Sell Your Engagement Ring?
As you can see from my personal experience even bringing UP the idea of selling my engagement ring, whether or not it's okay to sell your engagement ring is a very personal answer.
Some people think it's totally fine to sell an engagement ring. Heck, when we went to pick out our wedding bands together, our jeweler said that some people definitely trade in their engagement ring (even if they JUST purchased it from them) to pay for the wedding bands.
And some people? Well, you'd have to pry their engagement ring from their left ring finger.
When figuring out if it's OK to sell your rings or not, consider the following:
Do you plan to pass your rings down to someone, someday?
Does your spouse plan to pass your wedding rings down to someone, someday?
What is your/your spouse's love language (hint: if it's "receiving gifts", then this may be a terrible option for you as a couple)
Was the ring given to you by a family member (such as, from your spouse's mother)?
If you're still married, do you have a replacement ring to wear on your ring finger (or, are you going rogue, and not wearing one at all)?
If you're getting a divorced, would you ever wear the ring again, or is it going to sit in a jewelry box somewhere collecting dust?
Do you have kids with your soon-to-be ex-spouse? Would you consider passing the ring onto them one day?
Are you in a bad financial situation, and doing this would keep you from taking on bad debt (like a loan with a high percentage that you likely won't get out of for some time)?
Can I use the money from the sale to invest in myself for a better future?
If you have children with your ex, and they're old enough, then you can talk to them about whether or not they'd like the rings in the future.
For example, Kylie from KylieTravers.com.au, says,
"After the divorce, I discussed it with my children in case they wanted them [the wedding rings] since they were from their father. Due to the circumstances of my divorce and the fact that they want nothing to do with him, they didn't want the rings and were fine for me to sell."
Once you decide if it's OK for you to sell your engagement and wedding rings or not, you need to do your research about the best way to do so.
Common Reasons to Sell Your Wedding Ring
You're not alone in wanting to sell your wedding ring or sell your engagement ring. In fact, there are some reasons people sell that can give you some good ideas (or validate your feelings) for what to do with the money.
Common reasons include:
To pay legal expenses for your divorce
To rid yourself of an object that reminds you of a past relationship
To pay for major debt with high interest
To invest in yourself (like towards getting your degree)
To get rid of ex's jewelry and move forward in your new marriage/relationship (I pawned jewelry from my ex-boyfriends and got $50 to put towards our honeymoon!)
etc.
Selling your wedding rings can actually bring about relief. Kylie from KylieTravers.com.au, says that selling her wedding rings,
"was a relief. They were the last things hanging around from that time really. He was abusive and it was amazing to have all that energy gone."
How Do I Sell My Engagement Ring? What You Need to Know
If you're wondering how to sell your engagement ring, then the first step is to read through a bunch of research so that you can get the best deal possible.
After all, you're selling an asset!
I've got some cliff notes about what you need to know when selling your engagement or wedding ring.
Cliff Note #1: There is a Difference Between Retail Value, Resale Value, and Liquidation Value
When selling your wedding rings, you need to know that there's a difference between retail value, resale value, and liquidation value.
The retail value of your ring is always going to be higher, because it accounts for a business's operating costs. In other words, businesses have to mark-up the retail value on goods so that they can afford to actually be in business. The resale value is going to be lower, as it represents what a private buyer would pay you in the diamond market for your ring. And, finally, the liquidation value is going to be the lowest of all. According to MJGabel.com,
"The liquidation value refers to the diamond's worth at the cutting/polishing phase. This is the typical amount one could expect to receive from a jeweler or pawn shop for their diamond."
A diamond appraisal is based on the diamond's retail value, fyi, because appraisals look at what it would cost to REPLACE the diamond ring. Because of this, appraisals are often done on the retail value (which explains why you might get much less when selling your diamond than what your appraiser said it was worth).
Cliff Note #2: Your Diamond Rings Have Lost a Lot of Value
We all know that cars lose value as soon as you drive them off the car lot…but did you know that wedding and engagement rings generally do the same?
But people are often surprised (especially since they might have an appraisal of their ring from when they purchased it) that their engagement ring appraised for less than paid.
Generally speaking, you'll only get a percentage of what you first paid for the rings when you go to sell them. And that percentage? Is typically in the 25%-30% range of what you paid.
Just look at the results from Diamonds.pro when they bought a $4,500 Tiffany wedding ring and attempted to sell it right afterwards (hint: they received offers of between just $1,000 and $1,850.
Just take a look at these real examples of people who sold their wedding rings:
Erin Clark of The Refined Revelry had a white gold wedding band and engagement ring that, together, had cost around $3,200. After owning the engagement ring for 5 years and the wedding band for 3 years, she got divorced and sold them at a local secondhand jewelry store for just $500 (both both). That's just 15.6% of the initial value. While Erin did not do any research before she sold the rings, she DID price shop 6 different jewelers to make sure she was getting a fair deal.
Kassandra Dasent, Financial Consultant & CEO of Minding Your Money, sold her engagement ring, which was purchased for about $2,700 CAD. She listed her engagement ring (white gold with a round diamond just over a half-carat in a pave

setting) on two online sites — Craigslist and Kijiji — for $1,000, and eventually took an offer of $850 for both. She had the ring appraised for $4,000. So, she sold for just 31.4% of the original sale price.
Kassandra says,
"I did research the process online and also consulted a gemologist that I knew at the time. I quickly realized that the diamond industry has a significant mark-up and very few of them, unless they are determined to be geologically rare, will ever hold their value."
Cliff Note #3: Appraisals Can be Wildly Different
Appraisers will appraise a diamond ring very differently as well. For example, this comment on Bogleheads.org shows that an insurance appraisal to insure an antique diamond ring was quite high, whereas other appraisers would appraise the value at a lower point.
Wedding ring appraisals can come from a variety of sources:
Insurance appraisals
Auction house appraisals
Jewelry store appraisals
Pawn shop appraisals
If you're going to get an appraisal done, then you'll want to read up on tips from GIA.edu about how to pick the right appraiser.
How Much Can I Sell My Wedding Ring For?
We've gone over some good statistics and real life stories of how much you can expect to sell your wedding ring for. To recap, you should expect somewhere between just 25% and 35% of what you paid (or of any appraisal done).
But, there are some factors involved when pricing a wedding ring/diamond that can help either increase the amount you'll get for it, or lower the amount you can expect.
When selling your wedding ring, what counts is:
Where you sell it: Selling your wedding ring on sites like Craigslist and eBay directly to consumers is going to yield you a different result than if you sell at a pawn shop, or if you sell to a jeweler, or if you sell in an auction house. It matters where you sell your ring.
The Gem's Condition: The condition of the gems in your wedding ring — both from when it was made and from wear and tear — will increase or decrease the price. The GIA (Gemstone research institute) provides objective appraisals of gemstones (no rings, just the gemstone), and describes the 4 C's of a gem's value: Carat Weight, Color Grade, Clarity Grade, and Cut Grade.
Selling an Engagement Ring After Divorce — Real Life Stories
I'd like to share a few real-life experiences and stories of people who have sold their wedding rings and engagement ring after a divorce.
For example, Kassandra sold her engagement ring four years after her divorce was finalized, and used the funds towards paying off her $55,000 of consumer debt.
She says,
"I did not feel any guilt or emotional attachment to it at that point. Four years had passed since the divorce was finalized and by then I had long moved on emotionally in relation to the divorce. I was ready to let go of things that were no longer useful to me, in order to improve my financial position. I remarried in 2012 and I own a beautiful diamond engagement ring. This time around, we went the wholesale route and purchased a GIA certified diamond according to our desired specifications, paid for it in cash, and do not regret it. The couple who purchased my former engagement ring got a steal of a deal and people should consider buying a used diamond, if a diamond is what they want, to avoid the ridiculous retail cost. A diamond is not an investment."
Erin Clark sold her wedding band and rings in May, 2018, about 7 months after she went through a divorce. Pretty early in the divorce process, her ex-husband told her she should keep the rings and sell them to use the money to get back on her feet.
She says,
"I didn't have any strong feelings about selling the rings. I decided to hold onto them for awhile after the divorce to make sure I wasn't making a rash or emotional decision. By the time I finally sold the rings, I didn't have any feelings about selling them. If anything, I would have sold the rings right away to help me get back on my feet financially, rather than holding onto them. There are a lot of expenses associated with divorce. The money from the rings went toward that debt. Since I didn't have an emotional attachment to the rings, I wish I had put that money toward more important purposes."
Kylie Travers of KylieTravers.com.au, had 3 rings that she sold in 2017 — an engagement ring, a wedding ring, and a "guilt" ring her ex had purchased for her. The engagement and wedding rings were 18ct white gold with diamonds and a black opal. They paid $2,000 for the engagement ring (purchasing it from her sister-in-law at wholesale prices; it was worth $5,000 at the time of purchase), and the wedding ring was a family one (later they purchased a matching one with diamonds for $900). The third ring? Was purchased for $1,900 (but worth $5,000) through a wholesaler who they knew that worked in the mines in Australia. In the end, Kylie sold them all at a pawn shop for $3,000. The reason why she got such a great return on their original investments (62.5%) is because each of the purchases was either a used ring, or through a wholesale. In other words, they didn't pay retail value!
Kylie writes,
"When I first divorced I looked at having them made into something else or selling them then. After holding onto them for years and deciding to let them go I had them valued so they had a certificate before selling and a good idea of what I could get (FYI, nowhere near their value which I knew). I looked online and other places as well as having them professional photographed by a friend. In the end, I went with the easiest option but negotiated higher due to knowing their value."
We never ended up selling my wedding rings. I am glad that we did not have to or that we chose not to, as it still holds sentimental value to me and will continue to do so until the day I die. Yet I would still be willing to sell it if a situation arose where the sacrifice was needed, and I could do it without questioning our relationship, our future, or our devotion to one another.
I would love to open this up for discussion from everyone here. What does an engagement ring/wedding ring mean to you? What sort of emotional values are tied with yours? Have you sold your engagement ring/wedding band in the past? Would you consider doing so in the future if put into a bad financial situation, or even if just wanting to secure a better future for you and your family? If you are divorced, did you sell your wedding rings from your previous marriage/relationship or did you keep them?
The following two tabs change content below.
Amanda L. Grossman is a Certified Financial Education Instructor, Plutus Foundation Grant Recipient, and founder of Frugal Confessions. Over the last 10 years, her money work helping people with how to save money and how to manage money has been featured in Kiplinger, Washington Post, U.S. News & World Report, Business Insider, LifeHacker, Woman's World, Woman's Day, ABC 13 Houston, Keybank, and more.
Read more here
.
Latest posts by Amanda L Grossman (see all)