Is Tupperware replacement available after 20 years? Check out below as I navigate whether or not Tupperware will stand by their Lifetime Tupperware Warranty.
It occurred to me the other day − while trying to gauge whether an overused, label-less measuring spoon was a tablespoon or half a tablespoon − that all the Tupperware I collected in my teens has a Tupperware Lifetime Warranty on it.
I vaguely remember a Tupperware Consultant spouting this information out as I thumbed through their catalogue years ago, stuffing my face with homemade dips at one of the many household Tupperware parties I've attended.
But I must have made one too many of my grandmother's Strawberry Shortcakes because the blue labeling has worn off… leaving me to guess at the sizes (perhaps that's why recipes like Martha Tiramisu Cookies never turned out for me? Nah, but it's nice to blame something besides my own lack of baking skills).
A quick inventory of my cupboards, and I found three other Tupperware items that were worse for wear: a container that had a spider web-like shattering on one side, a small bowl whose plastic lip has broken off, and a measuring cup that's warped.
Sounds like it's time to experiment: exactly how limited is the Tupperware Lifetime Warranty?
Pssst: Can't get your items replaced through the warranty (i.e. the most cost-effective way)? Then check out this listing of Tupperware Replacement Lids. You can also find Tupperware replacement parts.
How Do I Replace Broken Tupperware? Start with the Tupperware Warranty (in plain English)
You'll likely remember, like I did, that there's a Tupperware guarantee. It's actually a Limited Lifetime Warranty (you'll see why below).
During my online chat with a representative, I found out the following information:
🍚Tupperware Replacement Policy
"Tupperware® brand products are guaranteed by Tupperware against chipping, cracking, breaking, warping or peeling under normal non-commercial use for the lifetime of the product. If, due to unavailability, actual product replacement cannot be made, comparable product replacement will be made. Products noted with the "Q" symbol in our catalog are guaranteed for 1 year against defects in workmanship."
Other things you should know about Tupperware's warranty: 
What's NOT Covered: Items that have been melted (for example, from your dishwasher), stained items (drats — spaghetti stains Tupperware pretty good!), discoloration, cuts/scratches, impact damage, prints/pouches/straps/taps.
Item May Be Replaced with Something Else: If you're like me, then you've had your Tupperware pieces for a long time. Over the decades, they stop making certain pieces, or they modify them. So don't be surprised if you get something in new colors, or something that is not an exact match to your old item.
You Might Not get a Value-in-Kind: Because they likely don't sell the same thing you own, they let you know that if the replacement item costs less in value then yours, there will be no refund of the difference. Also, if it costs more, you might have to pay the difference to get it.
Pssst: Are you bummed your items don't qualify for replacement through warranty (i.e. the most cost-effective way)? Don't worry. You can still get replacements. Check out this listing of Replacement lids for Tupperware. You can also find Tupperware replacement parts.
Tupperware's Lifetime Warranty – Old Tupperware Exchange
Now I want to share with you my own experience to give you an idea of how the process works.
Based on what the Tupperware warranty covers, here's the rundown of items I wanted replaced:
1 Small, Microwavable Bowl with Tupperware Lid (chipped)
1 Large, Microwavable Container with Tupperware Lid (cracked)
1 Set of Measuring Cups (warped)
1 Set of Measuring Spoons (peeling)
Psst: wondering how do I get a replacement Tupperware lid? Keep reading — the process is the same. 
Tried Two Different Replacement Methods (By Mail, and By Phone)
I didn't feel like tracking down a consultant (honestly, I would feel bad asking some random consultant to replace my items if I wasn't going to purchase other ones from her/him), so decided to attempt replacements by both mail and by phone for comparison purposes.
During our online chat, the representative told me that I could either call 1 (800) 887-7379 (the Tupperware replacement phone number) and they will place a special order to send me the replacement with a $5.75 shipping and handling fee (this is a flat fee for the entire order, not per product replaced. Awesome!).
Psst: I didn't have to ship anything in, but the rep said to keep the items for 30 days because they could request to see them during that time.
Or, I could ship the item myself to their factory at the following address with me paying to ship them, but paying no shipping and handling fee for the new replacements:
248 Tupperware Rd, Hemingway, SC 29554.
By Mail: I chose to ship the least expensive items to the warehouse, which were the small measuring spoons. I used an old envelope to mail them on February 20, 2016 for $2.54 (includes tracking) through USPS. Also, I included a letter with my name, phone number, email address, and mailing address.
By Phone: This left the measuring spoons, small bowl, and large container to handle over the phone. On February 29, 2016 I made the call. I had to let the person know each of the model numbers (thankfully located on the bottom of each piece of Tupperware). One item was not available, so they said to call back in a few days to see if it was available then (it was). Since they did not have it, they waived the shipping and handling fee on this order.
Note: The third option, which I chose not to take, is to find a consultant to give the items to. If you'd like to do this, go to www.Tupperware.com and on the left-hand sidebar is an option to "Find a Consultant".
The Fresh-Leftovers Results
Just like the representative told me, the item I mailed took much longer to be replaced than the items I called in (42 looooooonnnng days. Good thing we had an alternate set of measuring spoons from my husband's bachelor pad days).
The items by phone arrived much more quickly, but not within the 9 days they had quoted me. Two boxes arrived on March 13, 2016, 13 days later. One of the containers came with the wrong-sized lid, so on March 14th I online chatted with them again. The rep resent the correct lid − no shipping charge to me − and that arrived 10 days later on March 24th.
Altogether, I ended up spending just $8.29 out of pocket for products that would have cost me $59.85 (of course I had paid for them at one point; but with my family's consulting discounts and 20 years' worth of inflation, I think I came out ahead).
Also, they never asked to see the items I was asking to have replaced…so I still have them as well. Score!
Time to conduct your own Tupperware Cupboard Audit? Here's a Few Tips
From going through the process, I've got a few tips for you:
Batch to Save on Shipping and Handling Costs: $5.75 shipping and handling fee is per order, not per product. So go through your cabinets and get everything that needs to be replaced done at once to get the most bang for your buck.
Ship Smaller Items Yourself to Save Money: If you have small items, then go ahead and ship them yourself as you'll likely save from having to pay the $5.75 shipping and handling fee.
Save Your Tracking Number: Get a tracking number from the USPS and save it in case the items are lost.
Score Free Shipping Altogether: Going to a Tupperware party already? Then don't forget to bring those items needing replaced. In Canada? Then the rep said you will need to find a consultant anyway in order to have your items replaced under the warranty.
Save Time: If you really need those items quickly, then call them in instead of using mail. The phone-call turnaround time is supposed to be within 9 days. The mailing option took them a total of 42 days to get me the replacement.
Know the Functionality You're Looking to Replace: They didn't have one of my items, but I was able to ask for something that had a lid and was microwavable − the two things I had identified as most important to me.
Looking for Tupperware Replacement Lids – India?
One more thing — are you from India, and you're looking to replace your Tupperware lids? I reached out to the company, and they said that it's about the same in all countries to get replacement Tupperware. You can contact your dealer to to get the replacement under warranty, or you can go to this Tupperware India contact page for help.
Overall, I was very satisfied with my transaction. And now I've got a few updated pieces of Tupperware in my cupboards!
So, how about it? Are you going to do a Tupperware audit? Let me know in the comments below what items you're getting replaced, and how the process goes for you!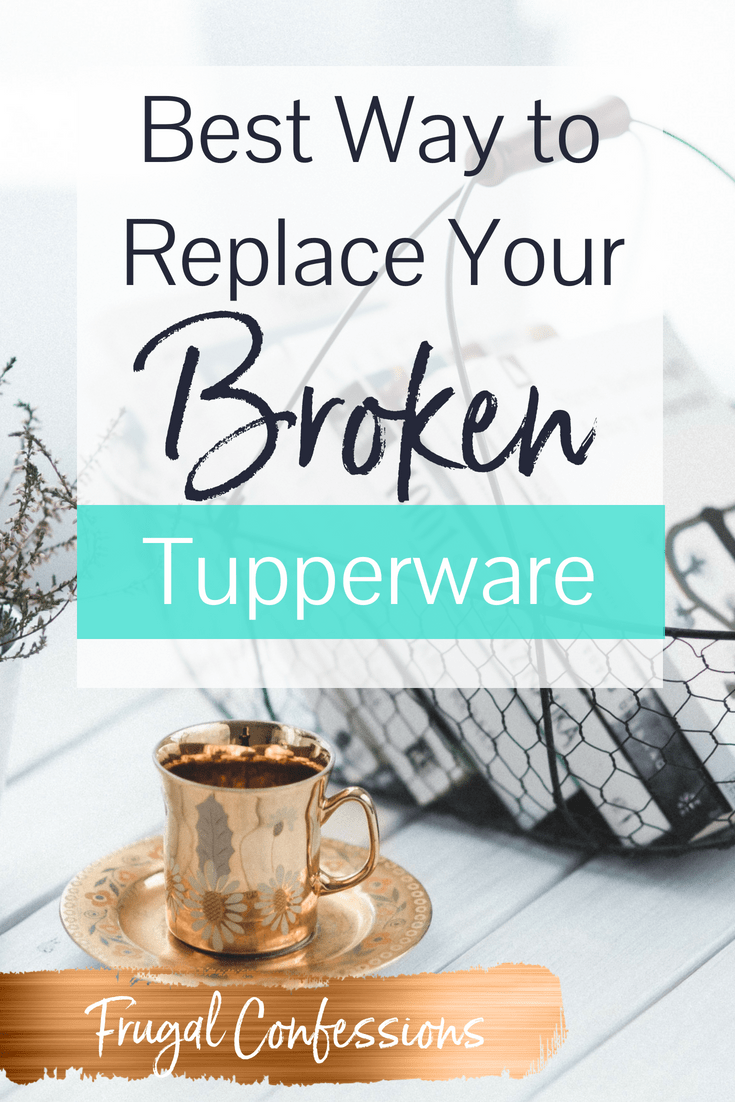 https://www.frugalconfessions.com/wp-content/uploads/2018/06/basket-book-books-6332.jpg
3511
5266
Amanda L Grossman
https://www.frugalconfessions.com/wp-content/uploads/2019/02/frugal-confessions-logo-340.jpg
Amanda L Grossman
2018-08-20 05:00:49
2019-03-01 13:50:53
20 Years Later, I Tested Out Tupperware's Lifetime Warranty. Here's How it Went.