I did this fun study of money books for kids. For the last several weeks I've checked out no less than 30 different stories about money for kids from our local library, all based on recommendations from parents.
For awhile, our home was filled with stacks of colorful, hardback books!
Note: Yes, I read every. single. one. So these are my real reviews, not something I pieced together from around the web.
You can check out the first two in the series for your Preschooler and Pre-Tween kiddos.
Today, we're moving onto the Tween age group (11ish – 13ish).
President's Advisory Council on Financial Capabilities
According to the President (or at least his advisory council), by the age of 13, your child needs to know the following four things to live a "financially smart" life:
You should save at least a dime for every dollar you receive.
Entering personal information, like a bank or credit card number, online is risky because someone could steal it.
The sooner you save, the faster your money can grow from compound interest.
Using a credit card is like taking out a loan; if you don't pay your bill in full every month, you'll be charged interest and owe more than you originally spent.
The Prez says, by 13 your child needs to know these 4 things for the "financially smart" life track.
Click To Tweet
Looking to reinforce (or even introduce) these concepts to your young adult?
Book Suggestions to Learn and Reinforce Money Lessons for Your Tween
I've read through each of these books so that I could rundown my take on the money lessons, life lessons, and synopsis (as well as age range) each provides.
If you're looking for money education geared towards young girls that has a cosmo-girl feel to it, this is your book. I particularly love the guidance on how to not only start up a business, but how to figure out your actual profits and not just your overall intake (something would-be biz owners at any age need to hear). I also dig the 101 money-making ideas in the back.
Overall, the book was a little too shopping-happy for my liking for kids (example: for a typical money moments day they include things like noticing another teen has a purse that costs more than someone's car and determining that she's stuck-up, meeting up with teen friends at the mall after school, etc.). To be fair though, there is a chapter on Shopping that goes into the value of needs versus wants, six ways not to buy, etc.
Age Range: 9-12 years
The Money Lesson(s): This is an entire guide about money, so there are many. The list includes being a smart shopper, starting up a business, running a business, and saving money.
Life Lesson(s): Once again, it's not a book really set up for one particular lesson or even two. However, one that caught my eye were how to negotiate with your parents to raise your allowance.
I truly enjoyed this jade-gem of a book. Minli and her family live very meagerly (poor according to American standards), but they have what they need. Though yes, just barely. The mother is always discontented with their circumstances. Her daughter is quite content, listening to her father's stories are night, but she knows that her mother is not and she knows they have to work to the bone for the little they have.
So Minli decides to take some of the information from these stories and seek these people out so that she can change her family's fortunes.
Age Range: 8-12 years
The Money Lesson(s): This is a beautifully written tale about greed, humbleness, dragons (yes, there are dragons!), and learning to be thankful with what you have.
Life Lesson(s): Being thankful with what you have, and feeling like you have "enough" is the secret to happiness. There's also a strong lesson here about helping others along their journey, and accepting help from others along the way.
You might be wondering (like I was) why any parent with a child would want them to read a book with this title?
This was a tough book to read for me. It was heartbreaking, to be honest.
The story revolves around Georgina Hayes, the daughter, whose father left his family recently. The mother, Georgina, and her brother, now live in a car. The mom works two jobs, but cannot save up enough for first/last/deposit on an apartment, at least not for awhile.
Georgina gets the idea of stealing a dog when, while parked in a parking lot for the night, she sees a flyer for a $500 reward on a missing dog. She figures if she can steal a dog, then the owner puts up a reward, she can get $500 to help her mother get an apartment and they can get out of their cruddy car.
Of course, she ends up becoming friends with the owner of the dog she steals, and she has to watch the sadness and depression it wreaks in her life.
Thankfully there's a happy ending, but wow, this one is heavy!
Age Range: 8-12 years
The Money Lesson(s): You shouldn't assume that just because someone has nice things, or a nice house, that they are "rich". Outside looks can be deceiving.
Life Lesson(s): Parents don't always have the answers. And they don't always have it all together. Stealing is wrong, and it hurts other people.
Money Book #4: Hothead, Cal Ripken, Jr.
Connor Sullivan, a star baseball player (in a book by Cal Ripken, whowouldathought?:)), has turned into a bit of hothead when he doesn't perform like he really wants to.
And where does all this extra tension and anger come from? From the situation at home that he refuses to share with others because he's ashamed. His parents are in a hot financial mess, and it's been stressful for everyone. Dad was laid off from his job as a car salesman, and his mother was trying to pick up the financial slack by taking extra nursing shifts in the emergency room. The stacks of bills are scoreboard-high. Connor overhears money arguments about monthly mortgage payments, whether to raid the kids' college funds, etc.
This book is great for any kid who loves baseball, by the way. There's lots of insider knowledge in here.
Age Range: 8-12 years
The Money Lesson(s): You can get scared by things you see on the television, such as a high unemployment rate. But don't be afraid to talk to an adult about this. It will help you to separate fact from emotional scaremongering by the media. Also, don't be afraid to talk to your parents about what you are hearing from them and not understanding, or what is frightening you about your household (such as money woes).
Life Lesson(s): When you hold things inside, they have a habit of manifesting in an emotional way. For Connor, this was through anger and temper tantrums that got him suspended for a game or two. But it could manifest in other ways. So talk it out and let others know how you're feeling and why. Also, when you are a part of a team, your actions directly affect them. You need to remember that they need you at their best! Both on and off the court/field/etc.
This book introduces some hard, but true, realities that are closely tied to finances + life. Like a mother abandoning her two children to their grandmother to raise after running off with men and deciding a life of alcoholism is more important. Fortunately Gram is an awesome, loving caregiver. She knows to keep her eye on their mother as well, especially when she shows up buying nice things for the kids and bringing her new highly questionable boyfriend around.
The scheme they've cooped up? Gather his child and her daughter (not the son) to come with them to Las Vegas where they'll be able to collect state welfare based on dependents. Her daughter will be the babysitter, so they can still live their carefree lives.
Poor children, all of them.
Throughout the story, Naomi learns more and more about her Mexican side of the family + her heritage, and she begins to really come into herself in a beautiful way.
Age Range: 8-12 years
The Money Lesson(s): There are some hard money lessons in this book. Heck, most of the life lessons are hard ones as well! The first that comes to mind is that gifts do not take the place of giving someone love and care, nor for apologizing for bad behavior (and expecting that it can all be swept under the rug). The second is that not all people are honest and fair when it comes to money. In fact, some people are greedy and schemy around it (think: Gollum and what the ring did to him in Lord of the Rings). Finally, some people who throw money around like they are rich really don't have a dime to their names.
Life Lesson(s): Finding out who you are and where you came from is worth it. This isn't just for people who don't know their parents; this is for anyone. It's so fascinating to learn about yourself through a line of people and places you hardly knew existed. Another lesson is to go with your gut. Give people the room and space to change, because some people do change. But others never will, and if they give you the willies, you'd better listen.
Money Book #6: The Lemonade War, Jacqueline Davies
I absolutely adored this book.
Jessie and her brother, Evan, love each other. Deep down. And usually they function well as a brother/sister unit. But when Evan finds out that his very intelligent sister is going to be skipping ahead to his own grade, his bad emotions come out of nowhere.
They begin selling lemonade together, and end up starting an all-out lemonade war due to lots of miscommunication that escalate things (gee, that never happens in real life!). And who wins? The person who makes a profit of $100 by the end of the week.
Age Range: 7-10 years
The Money Lesson(s): One of the great money lessons in this book is how it's geared towards making big business concepts understandable in terms of something your tween gets — a lemonade stand. So they learn about things like Underselling, Value-Added, Profit Margin, and Franchises. An overall highly valuable money lesson is how to take an idea you have to make money, and see it through. These two really know how to implement, and that's where the rubber meets the road.
Life Lesson(s): I think one of the best life lessons in this book that isn't necessarily pointed out is that each person, no matter what their skills or capabilities, can bring valuable assets to the table. Jessie is a whiz when it comes to math, calculations, and ideas for how to increase profits. Evan is more of a people person, which is hugely important in a business.
Pssst: Ready to get your child Money Smart? Check out my new site, Money Prodigy, where we're closing the money gap one kid at a time.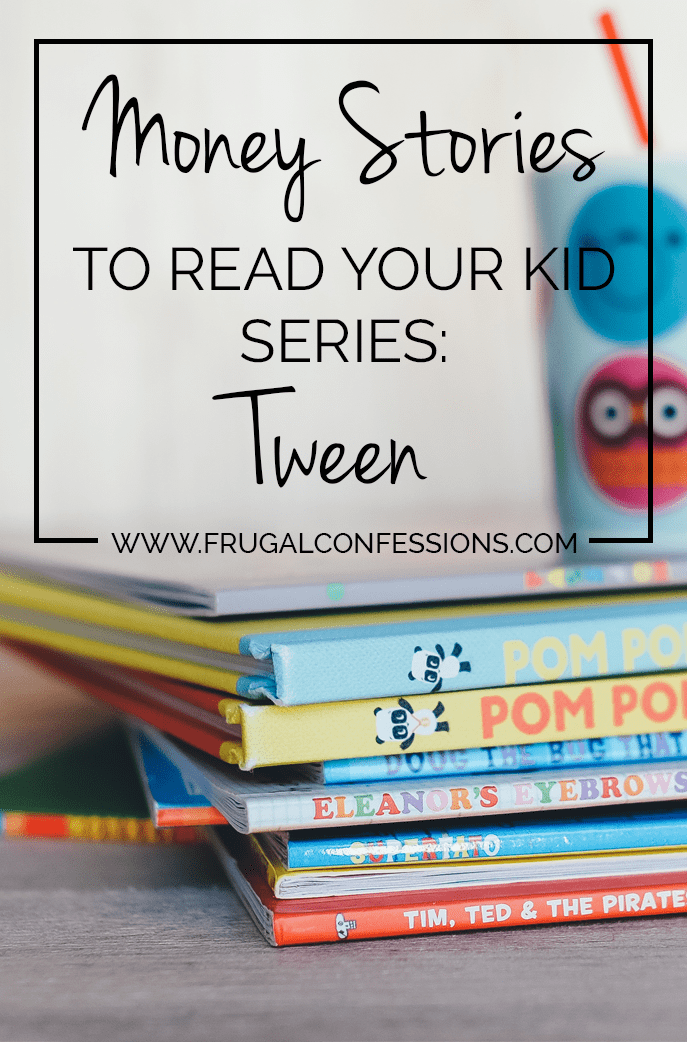 https://www.frugalconfessions.com/wp-content/uploads/2016/07/kids-money-stories.jpg
512
1024
Amanda L Grossman
https://www.frugalconfessions.com/wp-content/uploads/2019/02/frugal-confessions-logo-340.jpg
Amanda L Grossman
2016-07-20 05:00:02
2019-05-08 11:36:27
Books to Make Your Tween Money Whip-Smart