Why do I want to be rich? Asking this question clarifies what "rich" means to you, plus unlocks one key of happiness that most rich people never get.
I want to be rich.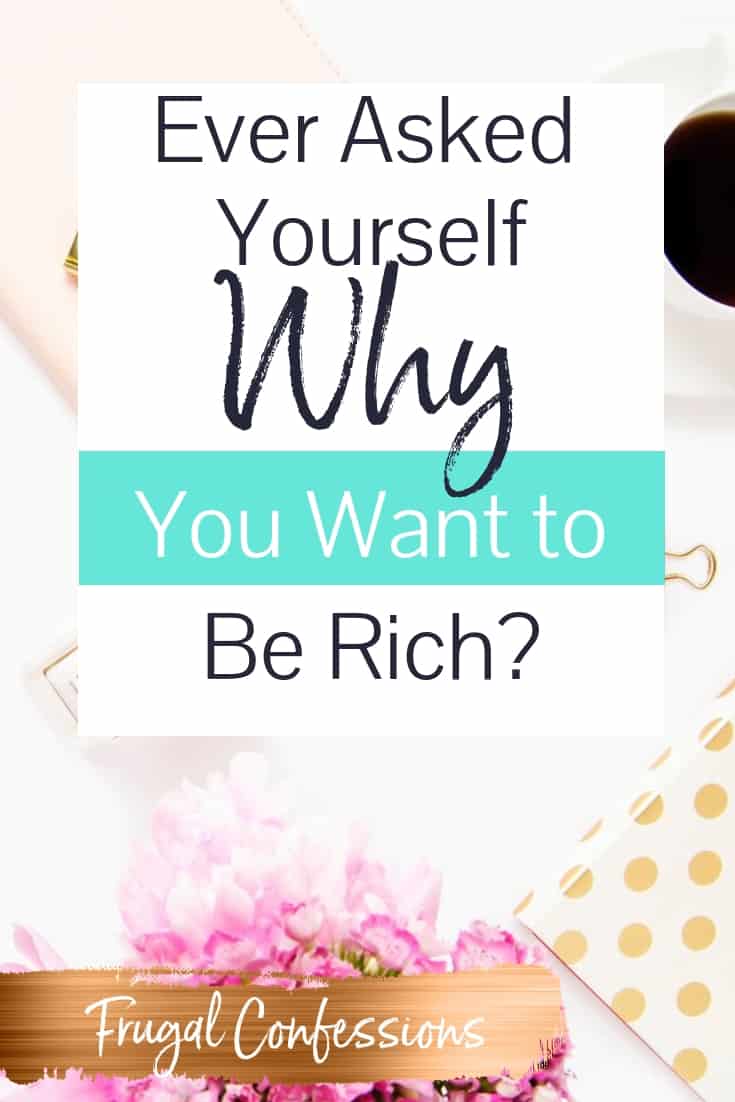 I've never actually said that out loud, much less confessed it to a large audience. Perhaps it's some leftover youth fantasy of mine when I linked a certain lifestyle with having lots of money. I even have an entry in my kindergarten diary where I write in crayon that I want to have a million dollars when I grow up so that I can give it away to needy people.
With my money habits — we declared debt freedom (except our mortgage, which is under $100,000, in 2010), moderately frugal, saving consistently each month, increasing my income — I am headed on the road to becoming wealthy.
In other words, I am making the sacrifices in my present life in order to continue building this cash and asset reserve (like limiting my spending money each month to cover groceries, gas, and a little bit of fun, buying used for most things that enter our house, carpooling with my husband, etc.)…
But why? I mean, why do I want to be rich?
Becoming rich — admittedly still a life goal of mine — is some shapeless, amoeba-like idea acting like a puppeteer to all of my financial decisions, but with no real purpose.
Soooo….
Why Do People Want to Be Rich?
We're going to get into the reasons why YOU want to be rich, but let me lay out a few common reasons why people want to get rich.
And by the way, getting "rich" will not necessarily yield the results they're looking for (that's why you need to answer the questions to come):
To solve all their problems.
To buy that beach home they get to spend one week at a year + daydream about the rest of the year from their Row #2 cubicle.
To get people to do the things that they want them to do.
To feel famous.
To quit their job.
To never work again.
If You Want to Be Rich, It's Important to Figure Why
The reality is: I am sacrificing a lot right now, for no particular reason.
Yeah, maybe I started with a reason. I mean, when you are in college, you basically have to scrimp and cobble two federal-minimum-wage paychecks together just to buy Christmas gifts for everyone.
And when you get your first apartment, you might dream of owning a home one day, so you want to sacrifice then to buy your home in the future.
Then you want to work hard as heck to get out of debt — which we did, in September 2010.
But…now what?
When I came to the realization that I don't really know why I want to be rich, but that I just set that quest back when I was living on a dairy farm in my teens, I began asking myself questions.
I suggest you do the same.
The Questions You Need to Ask Yourself
Your current happiness + future happiness both depend on you figuring out both WHY you want to be rich, as well as WHEN you'll get there.
Let's break this down a bit further.
Question #1: Why Do I Want to Become Rich
Also, understanding what motivates you is a very important step in any type of goal that you have. It will give you purpose — a fire in your belly — and help you in actually attaining your goal.
And you'll need that to continue on your pursuit.
Something else that could happen when you dig deep and figure this one out? Well, you might find out you don't really want to be "rich", or that you are already rich per your Quality of Life Rich Definition (see Question #3).
In my case, analyzing my own motivations has brought me more purpose to the seemingly repetitive decisions and sacrifices that I make each day and to the money that I put into my accounts each month.
It's why I automatically deposit into an IRA retirement account, why I diligently pay off my entire credit card balance each month, and why I wing my arm around like a vertical carousel to get the last bit of ketchup out of the bottle (this does work!).
Question #2: What is My Definition of "Rich"?
Everyone's definition of "rich" is different. I think you should both figure out a digit definition — as in, "rich to me is having $2,000,000 in the bank — as well as a quality-of-life definition (we'll discuss this one below).
And guess what? Knowing this is CRITICAL for your future happiness.
Have you ever noticed how many rich people keep hustling and bustling as if they were still poor and had things to prove to the world? It's like they can't shut it off.
They can't ever say,
"5 houses, 16 cars, and $10 million in the bank is pretty dang good. Why don't I just enjoy my family and life now?"
But you're going to be different. So am I! If you know your definition of "rich", then you'll know when you've arrived to it. You'll know that it is enough, and that you can go on living your life, not hustling to get more money.
Make sense? So, let's figure out the digits portion of your rich definition.
For your digit definition, will you feel rich when you have a certain amount of money in the bank? In assets (like investments or your home)? When you're out of debt? When your passive income flow is higher than your bills each month?
There are all sorts of ways to define "rich", and it your definition needs to FEEL right to you.
Pssst: A great way to know when you actually get to that number you just figured out? Is by tracking your net worth. I use Personal Capital — it's free. Once you upload all of your information and accounts, they automatically track it for you. It's a beautiful thing!
Question #3: What do I think my life and lifestyle will be like if I become rich?
When you are "rich", what will that look like? What's your Rich Lifestyle?
What kinds of Quality-of-Life signs are you looking for that will tell you when you finally reach the stage of "rich"?
By the way, these can be silly as well. Like, in my teenage mind, I thought, "When I'm rich, I'm going to have a Kitchen Aid Stand Mixer."
But you know what? I could easily go buy one of those right now if I really wanted to (oddly enough, now that I'm nearing 36, I don't feel the need for one anymore).
Have you met any of your Quality-of-Life signals for being "rich" yet?
My Answers for Why I Want to Be Rich
After thinking on these questions for quite a while, here's what I came up with for myself.
Being rich to me is still hitting that $1 million mark in the bank, but I admit $300,000 looks good, $500,000 looks good (heck right now $100,000 looks good!).
To me, reaching the million dollar mark means that I will have the freedom to live however I choose.
Right now, and for the first 27 years of my life, my choices have basically revolved around money, with all other decision filters in the background.
In fact, I don't even know that I would be able to switch off the "can you afford this" or "should you buy this" filter even if I were "rich"!
I'm already tracking my net worth through Personal Capital (have been for at least 5 years now), and so I can quickly check in once a year or so and see how far away from that $1,000,000 mark I am.
And, well, that's as far as I've gotten.
I certainly have some more analyzing to do on this goal, like what choices will I choose once I am rich? Are they choices I can choose now, but am simply putting them off because I feel I cannot attain them without wealth?
Perhaps my next step is to make a list of specific things I feel that I can do once I attain this goal…and then to actually GO DO THEM.
What sort of financial goals do you have, and what is your motivation for having them?
The following two tabs change content below.
Amanda L. Grossman is a Certified Financial Education Instructor, Plutus Foundation Grant Recipient, and founder of Frugal Confessions. Over the last 10 years, her money work helping people with how to save money and how to manage money has been featured in Kiplinger, Washington Post, U.S. News & World Report, Business Insider, LifeHacker, Woman's World, Woman's Day, ABC 13 Houston, Keybank, and more.
Read more here
.
Latest posts by Amanda L Grossman (see all)