Amanda's Note: This was provided by an online contact, who came to me with a great idea for how to automate savings on Amazon.com.
Frugal living means spending as little money as possible, but it's not without downsides. For instance, you might have to walk to a store further away for cheaper goods, or in the case of online shopping, you will have to spend time—an awful lot of time—to find coupons and deals. This inevitable trade-off has rendered many a deal less hearty considering the time and effort lost during the search for coupons.
There are many sites where you can find Amazon coupons, and all you have to do is to browse a coupon site, check for whatever codes available, copy, go to Amazon, paste; chances are the code has expired, or is not for the item you want to buy. Then you repeat the process, until you get the deal you want, or give up due to exhaustion. I believe this is a fair description of what coupon-searching looks like for most people.
But it needs not be so. With Dealgogogo, a revolutionary Amazon coupon aggregator (a Chrome extension), things work differently. All you have to do is to simply open this link, then add the extension to your Chrome browser. (Takes about 2 seconds to install, pretty quick.) Then you just shop like usual.
The extension is active when you browse Amazon, finds you the best deals when you come across any item, and applies coupon codes automatically at checkout when you are done shopping. With nearly 3 million coupons in its database, all coming directly from Amazon sellers, there is a good chance that you'll find a deal or two every time you shop on Amazon.
If you've come across the best deal for a certain item, there will be a little bar with Dealgogogo logo on it on your screen telling you that this is the best deal.
But more often, you'll come across something like this. I was looking for an iPhone case on Amazon and I came to this page. I saw the little bar where Dealgogogo showed me that I got 30% off, and I clicked it.
Then it showed me my new total in the pop up. I added the item to my cart, and proceeded to check out. Though the new total wasn't reflected in the cart, I knew it would be updated at checkout.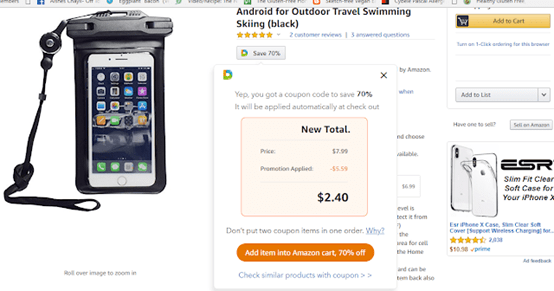 Before proceeding to checkout, I clicked the option for seeing similar products with coupons and that brought me to this page. Here I found similar iPhone cases and there was one with even more discount. So I bought this one instead and got 50% off. Again, the discount was not reflected in the cart. I proceeded to checkout, and there I saved $5.59 as promised.
If you use Amazon for online shopping, this extension will be an indispensable tool for you! Download the extension for free now and save money and time on Amazon!
The following two tabs change content below.
Amanda L. Grossman is a writer and Certified Financial Education Instructor, Plutus Foundation Grant Recipient, and founder of Frugal Confessions. Over the last 13 years, her money work has helped people with how to save money and how to manage money. She's been featured in the Wall Street Journal, Kiplinger, Washington Post, U.S. News & World Report, Business Insider, LifeHacker, Real Simple Magazine, Woman's World, Woman's Day, ABC 13 Houston, Keybank, and more.
Read more here
.
Latest posts by Amanda L Grossman (see all)