Court reality television shows (aka, court tv) love to arbitrate stereotypical cases to get their paid audience members in an uproar: the snot-nosed teenager who takes his friend's car for a joyride and crashes, the girlfriend who cheated on her boyfriend and his credit card, the deadbeat ex who refuses to pay child support and demands a DNA test, etc.
Even though these people are sometimes portrayed as morons, they might just be smarter than the rest of us. You see, we would like to believe that justice can be done in a succinct half-an-hour segment over lunch. In actuality, the "bad guy" wins in the end on these shows.
This is because both of the litigants—the "bad guy" and the "good guy"—have been given an all-expense paid trip to the city where the show is being taped, his/her judgment owed will have been paid by the show's producers, and the decision cannot be overturned in another court by a FBAR lawyer (unless it is dismissed without prejudice). Heck, the villain even gets an appearance fee for each day he/she is there, meaning even if the case is dismissed no one has left empty-handed.
I got to thinking that perhaps appearing on one of these daytime arbitration shows may not be a bad strategy for attempting to settle legal matters of your own. If someone from your past is trying to collect and you think you have a legitimate case against them, then why not put yourself in a situation where you cannot lose? Of course, you and your creditor would have to publicly settle your case on national television, take the time to travel, and have your case before an arbitrator instead of a real judge.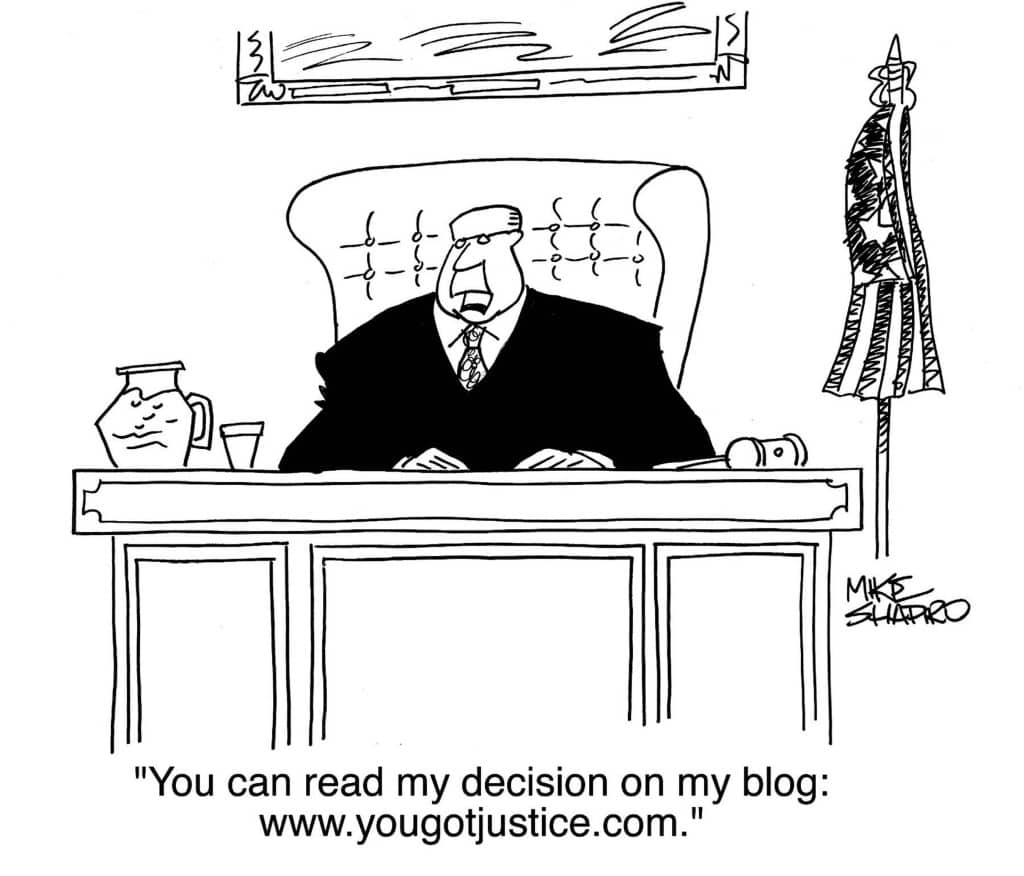 Cartoon courtesy of Cartoon Resource.
Court TV :: Judge Judith Sheindlin (aka, Judge Judy)
Judge Sheindlin retired from the bench (New York's Family Court) in 1996 after a 24 year stint prosecuting juvenile delinquency cases. During her career she was also the Supervising Judge in Manhattan, and has heard more than 20,000 cases.
Her show Judge Judy tapes at the Sunset Bronson Studios on Sunset Boulevard in Los Angeles, California. (the show sometimes does taping in the Kaufman Astoria Studios in Queens, New York). While some audience members who appear in her show are legitimately people who have asked the producer for tickets, most audience members are extras (aspiring actors). In order to find litigants, researchers comb through cases in small claims courts across the nation. Cases are also solicited through their website (you can submit your own case here). If the producers of the show are interested in a case, they will gather permission from both parties, ensure that they sign a waiver and agree that arbitration in Judge Judy's court is final and will not be pursued elsewhere (unless the Judge dismisses the case without prejudice).
A claim can be made for up to $5,000, and the award for each judgment is paid by the producers. On top of this, both the plaintiff and the defendant receive an appearance fee that has reportedly ranged between $100-$500. A daily wage of $35 per litigant is paid, as well as airfare and hotel expenses for the duration of the show's taping for that particular week (typically 2-3 days).
Submit your own case by clicking here.
Court TV :: The People's Court
Judge Marilyn Milian is the first Latina Judge to host a nationally syndicated television court show. Florida Governor Jeb Bush appointed Milian to the Miami Circuit Court in 1999, where she served in the Criminal Division. Between 1984 and 1994 she served as an Assistant State Attorney for Dade County.
The beginning of her show states that these are real cases and the people are actual litigants with a case pending in civil court. Claims can be up to $5,000, and people are paid $250 for their appearance.
The end of the show has the following disclaimer: "Both the plaintiff and the defendant have been paid from a fund for their appearance. The amount, if any, awarded in the case, is deducted from this fund, and the remainder is divided equally between both litigants. The amount of the fund is dependent on the size of the judgment." So it looks like the pay varies, though I could not find any information on the maximum and minimum amounts that can be earned.
Submit your own case or get free tickets by clicking here.
Court TV :: Judge Joe Brown
From 1990 to April 2000, Brown served as a judge of the Shelby County Criminal Courts in Memphis, Tennessee. He eventually became director of the City of Memphis Public Defender's Office.
The Judge Joe Brown show is taped at Sunset Bronson Studios in Los Angelos, California (right next to Judge Judy's studio!). A disclaimer at the end states, "Monetary awards are paid from a fund maintained by the producer". Unfortunately, I was unable to find an amount that is paid (and unwilling to stage a lie in order to verify this information like these guys did).
**Update: Judge Joe Brown was cancelled in 2013.
Court TV :: Judge Mathis
After graduating from college in 1983, Judge Mathis joined the staff of Detroit City councilman Clyde Cleveland and continued to work as an advocate for equal justice with Reverend Jesse Jackson's PUSH Excel.
Though I haven't found a solid source, it is rumored that the Judge Mathis show will pay $200 to each litigant, hotel and food costs, as well as the settlement owed.
Submit your own case by clicking here.
I'll be the first to admit that publicly settling matters about money is probably not on the top of most people's wish list. However, the option exists and the experience could end up saving you (and making you) some money.
Have you been on one of these court TV shows, or know someone who has? I would love to hear about the experience and the outcome.