Declutter for the holidays will help you get your house in order AND find extra cash to pay for this expensive time of year. Win-win!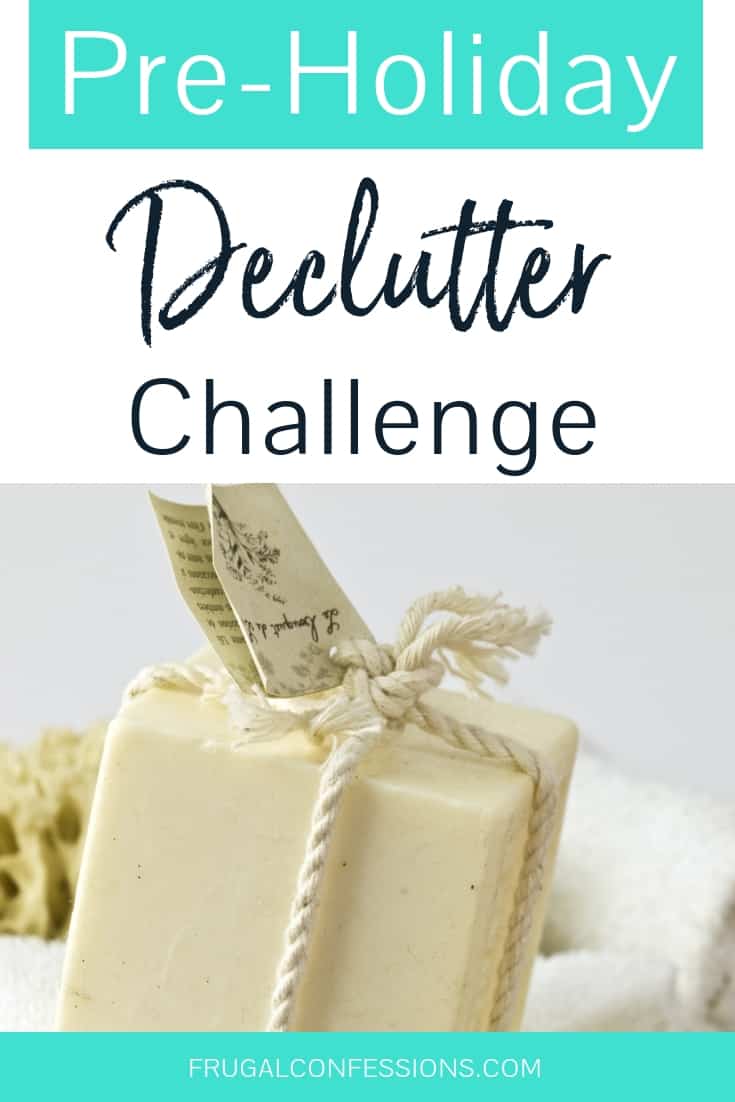 I loathe clutter almost as much as I loathe being wasteful. But this doesn't mean we live in a minimalist home and compost our toilet waste.
Still, we run a tight ship.
So you can imagine my surprise the other day when I started to tally the sheer number of things that can be purged from our lives.
As I started making a list, it occurred to me that others probably have lots of things in their lives that they've been meaning to purge, either through donating, selling, recycling, or otherwise giving away.
Enter the Pre-Holiday Purge Challenge
Paul and I have a few expensive maintenance issues and repairs to address on our house, including a possible foundation repair at the end of this month (gulp!).
On top of this, I want to take my de-cluttering to another level and rid my home and mental space of some items that are lingering for no good reason.
Aside from extra cash, I hope to create more space, take the minimalist lifestyle one step further in our household, and decrease the number of maintenance activities that extra belongings take.
The Nitty-Gritty Details
November has 30 days in it, so I gathered 30 items to be listed for sale beginning November 1st.
Although I ended up listing more than one item each day, the overall goal was to rid our lives of 30 items in total by the end of November.
The money we earned (see below) was funneled towards house repairs, but you could choose your cash to go towards savings, debt repayment, a credit-free holiday, fund retirement, book a trip, etc.
Places Where I Listed My Items to Sell
Facebook Groups, Craigslist, eBay, Community Online Bulletin Board, Yard Sale (or online yard sale), Half-Priced Books, Plato's Closet, and Consignment Shops.
30 Items Listed for Sale
Juicer
Five baskets found in the rafters of our garage
Old laptop
Old Central A/C unit (can only be sold to a licensed A/C person)
Suit Pants Size 2
Cement Planter left by previous owners
Cement Planter left by previous owners
Door we purchased wrong size of, only realizing after putting hinges on it (doh!)
Mini-Fridge
Old ice chest (needs a new plug)
Typewriter
Craftsman 6.0 lawn mower—needs work/a tune-up
Outside Light on a wooden pole left by previous owners
A set of long curtains left by previous owners
A set of medium-length curtains left by previous owners
Lot of Xbox Video Games
Lost: Season 4
Mini blinds from living room windows
CD racks
Lot of cookbooks
Lot of cookbooks
Bar Butler Four-Shot Dispenser
Bag of books
More books
Lot of Dog the Bounty Hunter books
Orion VCR (do people still use these? I hope so)
Decorative mirror
Laptop Bag
Brand new ceiling light (we replaced all of the flush ceiling lights in the house, but have one brand new light left over because they are sold in a box of two)
Psst: Here's How We Did
Week 1:
My husband, Paulm listed $160 worth of items on both Craigslist and Half.com. He included a picture and a description for each item, and the total listing time took him 45 minutes to complete.
Here are the items that have been listed and preliminary prices:
Mini-Fridge: Listed on Craigslist for $65
Craftsman 6.0 lawn mower—needs work/a tune-up: Listed on Craigslist for $70
Lost Season 4: Listed on Half.com for $10
Laptop Bag: Listed on Craigslist for $15.00
Central A/C Unit (can only be sold to a licensed A/C person): $250
The results? Well, not too exciting yet. On our way back from our free date at the zoo yesterday we stopped at a Half Price Books store and were able to offload 7 items for a total of $12.
Week 2:
Total Time Spent Listing Items: 2 hours
Total Number of Items Sold: 8 items (6 books, one video game, one typewriter)
Cash Earned: $22
The following two tabs change content below.
Amanda L. Grossman is a Certified Financial Education Instructor, Plutus Foundation Grant Recipient, and founder of Frugal Confessions. Over the last 10 years, her money work helping people with how to save money and how to manage money has been featured in Kiplinger, Washington Post, U.S. News & World Report, Business Insider, LifeHacker, Woman's World, Woman's Day, ABC 13 Houston, Keybank, and more.
Read more here
.
Latest posts by Amanda L Grossman (see all)