Need to raise your credit score fast? Here are 5 actionable tips you can do TODAY to increase your score.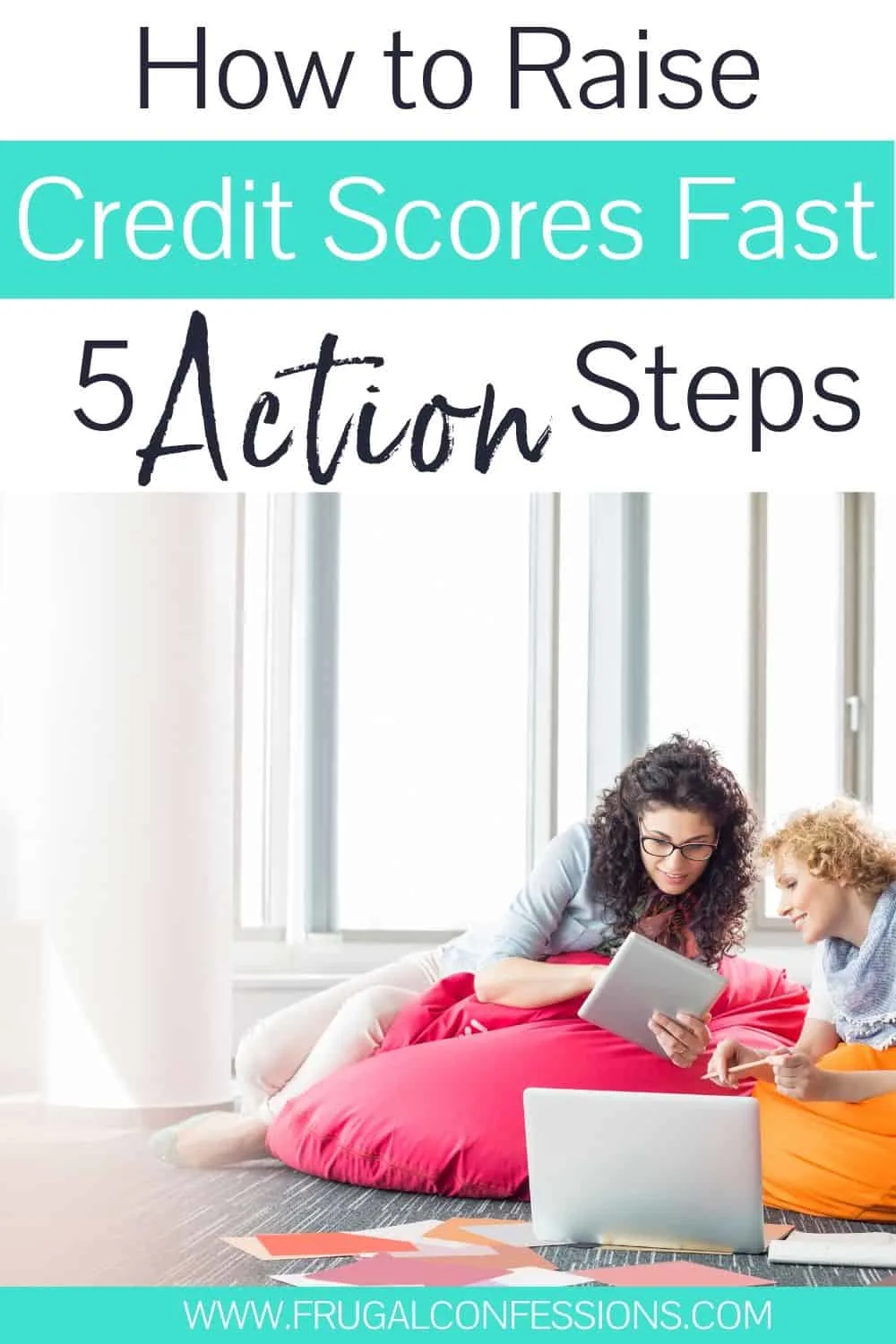 Hey guys, my name is Mike. I blog over at Credit Takeoff, and today I'm going to walk you through five ways you can improve your credit score, fast.
Getting turned down for loans or paying sky-high interest rates because of a low credit score is a letdown, but if you're being denied jobs or apartments because of a bad credit score, that can be an even bigger and more urgent problem.
If you're finding yourself in one of these predicaments, you may feel like you're having to put your life on hold.
But it shouldn't have to be that way.
While raising your credit score could take some time, there are some things you can do to speed up the process.
How Can I Raise My Credit Score in 30 Days (or Faster)?
Credit Fix #1: Check Your Credit Report for Errors
According to a report issued by the FTC (Federal Trade Commission) in 2012, 1 in 5 consumers have errors on their credit reports!
But from the looks of the follow-up study they did in 2015, some of these mistakes are still there, even after they were disputed. And these errors can cost people quite a few points on their credit scores if they're allowed to remain.
As a consumer, it's your right to have a fair and accurate credit report. But in order to ensure that, you have to be pretty diligent in keeping an eye out for mistakes yourself.
When you do spot negative information errors, don't waste any time—dispute them right away.
You can do this online with the three major credit bureaus (TransUnion, Equifax, and Experian), or you can send letters letting them know the items are not yours.
And you might have to contact them more than once if they fail to comply immediately.
Credit Fix #2: Use a 609 Letter
Technically, if a negative item on your credit report is accurate, there's not much you can do to have it removed. But there is one loophole in the law that tends to work for a lot of people. It's called a 609 letter, and here's how it works:
Section 609 of the Fair Credit Reporting Act (FCRA) states, among other things, that an agency reporting your credit must be able to verify certain information.
For one thing, they have to prove that it was actually you who gave the approval for them to pull your report. To do this, they must have some sort of identification on file that only the applicant could have given them, usually a drivers license.
The burden of proof lies with the credit reporting agencies and bureaus.
And according to section 609, if they can't produce evidence that they legally obtained an applicant's credit report, they must remove any negative items associated with the account.
This is the loophole many people use to remove negative items. You can simply write a letter to each agency at the addresses listed below stating that you are exercising your rights under FCRA Section 609 to verify your accounts.
In the letter, you'll need to list each account you're referring to. And of course, you only need to verify the accounts associated with negative items on your credit report.
If you haven't heard from them or seen any change in your reports after 30-45 days, you may need to send a follow-up letter. It's always a good idea to send them certified or registered mail to make sure they get them.
Credit Fix #3: Use a Goodwill Letter
A goodwill letter is simply a letter asking a credit reporting agency (credit bureau) to remove an item from your report as an act of kindness and is typically used as sort of a last-ditch effort when nothing else has worked.
These letters work best for accounts that you only paid late once or twice, surrounded by several on-time payments. In other words, it's clear that it's unusual for you to pay late, so the company might, in the interest of good customer service, remove the one or two late payments from your report.
In order to write a goodwill letter, you'll want to express responsibility for your actions, be gracious, and provide any documentation you might have of why you were late.
Keep in mind that there is nothing forcing them to remove any accurate negative items, so being courteous and respectful goes a long way toward getting results.
Credit Fix #4: Hire a Credit Repair Company
A credit repair company could be the fastest and easiest way to clean up your credit fast. And some of the best ones even have attorneys on staff, so you can be sure they're working within the law. (Check out my review of the five best credit repair companies for more information).
Lexington Law, for example, is an actual law firm with an entire department dedicated to credit repair. Their legal staff consults their clients on best practices for improving their credit and sends out rounds of disputes to quickly get negative items removed from reports.
But even some of the ones that don't use lawyers still have years of experience and education under their belts.
Some examples are Sky Blue Credit and The Credit Pros, both of which have A+ Better Business Bureau ratings and have been in business for many years. They each also have a ton of success stories to back up their claims.
What credit repair companies do is take the hassle off your hands.
They start by combing your report for errors and disputing anything they find that's wrong. They will then usually send out a second round of disputes to follow up on items that didn't get removed during the first one. And they'll continue until they feel they've done everything they can.
In addition to basic disputes, credit repair companies will often use methods such as 609 and goodwill letters. And these letters sometimes carry a lot more weight when coming from professional organizations than they do from individuals.
As an added service, some credit repair companies will contact your creditors for you.
If you're currently receiving collection notices and calls, they will call these creditors and let them know you're working to resolve your issues. The collections should then stop while you're in the credit repair process.
Credit Fix #5: Open Another Credit Card
The second biggest factor in calculating your FICO score is "Amounts Owed."
Many people mistakenly believe that this just means the less they owe, the better. Or they think that if they have few credit cards and loans out, they have good credit.
While there is a little truth to some of that, what is most important is the amount of available credit you're using. In other words, it's okay to have a lot of open credit as long as you're not maxed out.
Check over your credit report and see how much of your available credit you're using. If it looks like most of your credit cards and loans are maxed out, you may need to take some action.
Most experts recommend you use no more than 30% of your available credit, but truthfully, if you're only using 35%, that's probably not why your score is low.
If this does appear to be your problem, though, it's a good idea to open up another line of credit. And since you need to make sure you don't max it out, the best way to do this is by applying for a credit card.
But available credit isn't the only factor to consider when thinking about applying for a credit card. Your score could be low because you simply don't have a long enough credit history.
In this case, there's no other way to improve it other than to use some credit responsibly for a while. And when you're just starting out, the easiest way to do this is with credit cards.
Almost anyone can get approved for some type of credit card because there are so many options. Applicants with very low scores may have to apply for secured cards, but these are great credit-builders if you can use them responsibly.
Psst: you might want to learn about becoming an authorized user on a credit card to see if that can raise your credit score.
The Bottom Line on How Long it Takes to Improve a Credit Score
Most experts will tell you that repairing your credit is more of a marathon than a sprint.
And while that can be true in some cases, some of the actions listed here can help you speed up the process.
No one should have to suffer the consequences of a few bad choices or seasons of struggle when there are avenues available that will get you back on the right track.
The following two tabs change content below.
Amanda L. Grossman is a writer and Certified Financial Education Instructor, Plutus Foundation Grant Recipient, and founder of Frugal Confessions. Over the last 13 years, her money work has helped people with how to save money and how to manage money. She's been featured in the Wall Street Journal, Kiplinger, Washington Post, U.S. News & World Report, Business Insider, LifeHacker, Real Simple Magazine, Woman's World, Woman's Day, ABC 13 Houston, Keybank, and more.
Read more here
.
Latest posts by Amanda L Grossman (see all)